If you purchase an iMac, you'll get a Magic Mouse as part of the deal. What if you get a MacBook or a Mac Mini and you want to use something else?
The idea of spending $80 on a mouse isn't appealing to many people, especially when one for the PC can cost 80% less. You might also decide that a USB mouse makes more sense if your Magic Mouse is no longer functioning.
If you know how to connect a USB mouse to Mac, you can get the result you want for a fraction of the cost.
How to Connect a Third-Party USB Mouse to Mac
Some people transition from Windows to Mac and don't like how the Magic Mouse functions. It feels uncomfortable and foreign, especially if you've been on PC for several years.
If you start up your Mac in Windows with Boot Camp, the Magic Mouse is practically useless.
Although a Bluetooth mouse can pair with your Mac relatively easily, the USB version has a few extra steps to follow.
If you use a specialty mouse from a Windows PC, those functions only work if the manufacturer has Apple-compatible drivers for its unique operations. It is not unusual for gaming mice to provide basic services only when plugged into a Mac because of this issue.
The first step to the connection process is to determine what mouse type you have:
If you have a wireless mouse with a USB dongle, it essentially works the same way as a corded USB mouse. As long as it uses radio frequencies to communicate to its receiver, you can plug-and-play with the peripheral.
Some people might realize at this stage that they have a Bluetooth-enabled mouse. If it doesn't have a dongle, you'll need to sync it with your Mac.
Once you have that information sorted out, you can begin the connection process. That starts by turning the mouse on.
Wireless. If you are using a wireless option, it must be within range of the USB dongle you have plugged into your Mac.
USB. If you have a corded USB mouse, just plug the device into your Mac.
PS/2. When your mouse has a PS/2 connection, you'll need a USB adapter to complete this process. If your Mac only has a lightning or Thunderbolt port, you'll need a multifunction station that accepts your peripheral input.
After you have the adapter(s) connected correctly, your mouse should function correctly.
If the Mac isn't responding to the mouse, you might need a tool called "USB Prober" to determine if the computer detects the peripheral at the port. This step will let you know if there is a driver issue that requires a resolution.
How to Configure Your Windows PC Mouse for Mac
Once you have the Windows PC mouse connected to your Mac, it is time to tweak the settings. You can configure some of the options to feel more natural to use the product within the macOS environment.
You'll need to go to System Preferences to find the Mouse menu option. If you click on it, you'll get a configuration window to modify a few settings.
You'll also see a button that says Set Up Bluetooth Mouse. If you have trouble pairing that peripheral type to your Mac, click there to adjust your settings.
When you need to configure the basic mouse settings for most PC-based products, you'll get these five options for customization.
This option appears at the top of the configuration box when you want to tweak your mouse settings. It tells your Mac how to interpret the peripheral's scrolling motion. If you leave the box unchecked, any downward movements will move the cursor in the same direction.
When you activate this feature, you'll need to move the device down to send the arrow upward.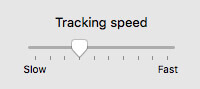 You'll find this option at the top left of the configuration window. This setting determines how much distance the cursor travels when you move the PC mouse. When you bring the arrow closer to the "fast" setting, it moves more rapidly as you navigate through your various software tools and apps.
Please note: This setting also applies to your trackpad on MacBooks. You may need to verify that you're on the mouse settings first before making adjustments.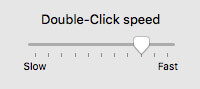 This selection is on the upper right of the configuration window. It determines how fast you must click twice to initiate a double-click order. When you set it toward "fast," it takes less time for the interval cut-off to activate.
Some PC mouses have a scrolling wheel on the top or side of the peripheral. This tool replicates the finger-swipe motion up and down that you receive with a Magic Mouse. When you set it to closer to "fast," more of the screen moves whenever you activate this feature.
This setting tells your Mac if you want the left or right button to serve as the primary command activation. Most right-handed users wish that it gets set to "left," while left-handed users might prefer it to be set to "right."
All of these settings are based on your personal preferences. You might notice that some USB mice tend to have more sensitivities to the speed settings.
It might be a few moments of trial-and-error with the peripheral until you feel that you've got a comfortable set of basic settings.
You can also go to the Accessibility menu option under System Preferences to tweak your mouse settings. This window lets you enable the Mouse Keys feature on your Mac, which is sometimes useful if you have the Magic Keyboard with a number pad or a compatible third-party alternative.
This secondary window also lets you manage the spring-loading delay of the mouse. This feature adjusts how long you need to wait for a folder to open when you hover a file over it.
How to Set Up a Mouse with USB Overdrive on Mac
After you spend the money to upgrade to a gaming mouse, you might notice that macOS stops responding as expected. It might take several clicks to initiate any commands, and you may go through several restarts as your Mac attempts to address the issue.
The problem isn't with the mouse. It's with the operating system.
When you connect a gaming mouse to macOS, an issue with acceleration for high DPI mice limits the peripheral's usability. Several companies lack support drivers for Apple products, which makes it even harder to configure the device.
Although you can still adjust the basic settings, you won't see the 1800 dpi performance you want. That's when USB Overdrive can help you resolve the issue.
You will need to download USB Overdrive before starting. Once the software installs, you can open it through System Settings.
Click on the Settings tab if it isn't automatically selected. It is at the top of the window next to "Status" and "Help."
Slide the Acceleration dial at the bottom right so that it is all of the way down. You'll need to move the slider to the left to accomplish this step.
The Speed setting should move as far right as possible so that you can find the right balance as you use the peripheral.
Once you've accepted those options, start testing the mouse to see if it feels comfortable. You can always come back to these steps to make adjustments to the acceleration and speed until the right sensitivity levels get reached.
You can also adjust the modifier keys to hold down for specific actions. If you select Double Click from the dropdown menu and the Shift checkbox, the mouse won't register that command unless you're holding the key down on your keyboard.
Some gaming mice have automatic sensitivity adjustments that attempt to compensate for settings changes as they're detected. If you don't notice any changes to performance, you might need to deactivate this feature to use the PC mouse on a Mac.
USB Overdrive is shareware. To eliminate the ten-second countdown when you open the application, you'll need to pay the registration cost of $20.
Other Third-Party Tools for Tweaking a PC Mouse on Mac
If you need more customization with your Windows mouse on Mac, try BetterTouchTool. This software offers a pay-what-you-want model that charges a $5 minimum for the download. You can also take advantage of a 45-day free trial to see if it delivers what you need.
The software's functionality ceases after 45 days unless you purchase a license.
It delivers a better result when you use a PC mouse on Mac because you can assign buttons to system actions.
You receive hundreds of predefined commands for assignment, ranging from logging out to capturing screenshots.
Although you might not use most of them, you do receive a 3F Swipe Right and a 3F Swipe Left option for moving pages forward or in reverse. Binding these actions to the buttons creates the counterpart to the three-finger swipe.
BetterTouchTool also offers a precise slider for setting your mouse speed with more customizable options.
Another third-party tool for tweaking your mouse settings is SteerMouse. It has a speed range of 0.03 to 5.0, providing whatever levels you prefer for your gaming activities.
It also provides an option to alter your sensitivity levels when making cursor adjustments and an automatic moving function.
You can assign commands to buttons, wheels, and tilt wheels with this third-party software.
In Conclusion: How to Connect a USB Mouse to Mac
Since most PC mouse on Mac equipment offers a plug-and-play function, you can easily install your new equipment. Most items should start working once you insert the USB dongle or corded connection.
If you have a Bluetooth mouse, you might need to sync it before the equipment functions correctly.
When you have a gaming Windows mouse on Mac to use, different settings might be necessary to make the equipment feel natural. Although macOS offers some tweaks, you might need one of the third-party solutions found in this guide to solve your issues.
Although a handful of gaming mice don't offer Mac drivers, many of them do today so that you can avoid this issue altogether. When you have one that doesn't provide an automatic solution, be sure to bookmark this guide to fix the problem quickly.