The standard theory for Mac vs. PC is that you'd use Apple products for creative needs and Microsoft-based solutions for productivity.
If you already have a Windows PC, you can turn it into the best operating system for music production with a few extra steps.
That's why you'll see artists and musicians often working on an iMac, MacBook, or Mac Mini. The intuitive recording options with a free digital audio workstation (DAW) you receive through the GarageBand app provide an innovative music production solution.
Are you unsure about Mac vs. PC for music production? Let's get those questions answered!
Why Do We Even Wonder About the Best OS for Music Production?
Before you could unlock the power of music production on Mac in the 2000s and early 2010s, you needed a software package called LogicPro.
Although you could use GarageBand at the time, it was a paid app. That meant a PC was often better because you could get free DAW) software, plugins, and loops.
In 2017, Apple decided to make GarageBand, iMovie, and iWork free for all macOS users. If you'd purchased a new Mac between then and 2013, you had received the apps for free already.
During that transition, Apple turned what you'd get with LogicPro into an upgraded GarageBand version. Instead of paying up to $200 for the base DAW, it was all suddenly free with the updated stable downloads.
With today's equality between Mac vs. PC, the choice is more about your personal preferences than the capabilities of either operating system for music production.
What to Consider When Selecting Mac vs. PC for Music Production
When you want to create music outside of a professional recording studio, your Mac or PC must meet a few spec requirements to deliver a positive outcome.
Unless you're using an older DAW to produce music, you'll need the following hardware requirements.
2.2 GHz i7 quad-core processor.
64-bit operating system.
16 GB of RAM (virtual RAM does not benefit a modern DAW).
500 GB HHD or SSD.
External storage for your music files.
A mouse with side-scrolling features.
Although you can produce music on a laptop or desktop monitor of any size, it usually helps to have a 15-inch screen at a minimum.
When you have a dual-monitor setup, the technical work of producing music gets a little easier.
Since Mac and Windows can produce similar outcomes with your recording quality, tone, and audio compression, the best operating system for music production must focus on the specific software you prefer to use.
It's challenging to look past the potential of GarageBand if you're just getting started with music production.
When you want to step up to better DAW software, Image-Line FL Studio (which was once called "FruityLoops") is consistently rated the best product. It's available for Windows 8.1 or later or macOS 10.13.6 or better.
Do Mac vs. PC Parameters Determine the Best OS for Music Production?
Your computer should support your favorite DAW. In that regard, music production on Mac or PC is a straightforward choice.
When you start using the software, you might find some core differences occur when using the same DAW on one operating system or the other.
We're not talking about the Blue Screen of Death or the Rainbow Pizza Wheel of Destruction here. You might get more lag from one setup than the other, experience lower audio quality, or miss out on some essential instrument connections.
These four areas are worth reviewing from a personal perspective before making a final choice.
1. Mac vs. PC: Compatibility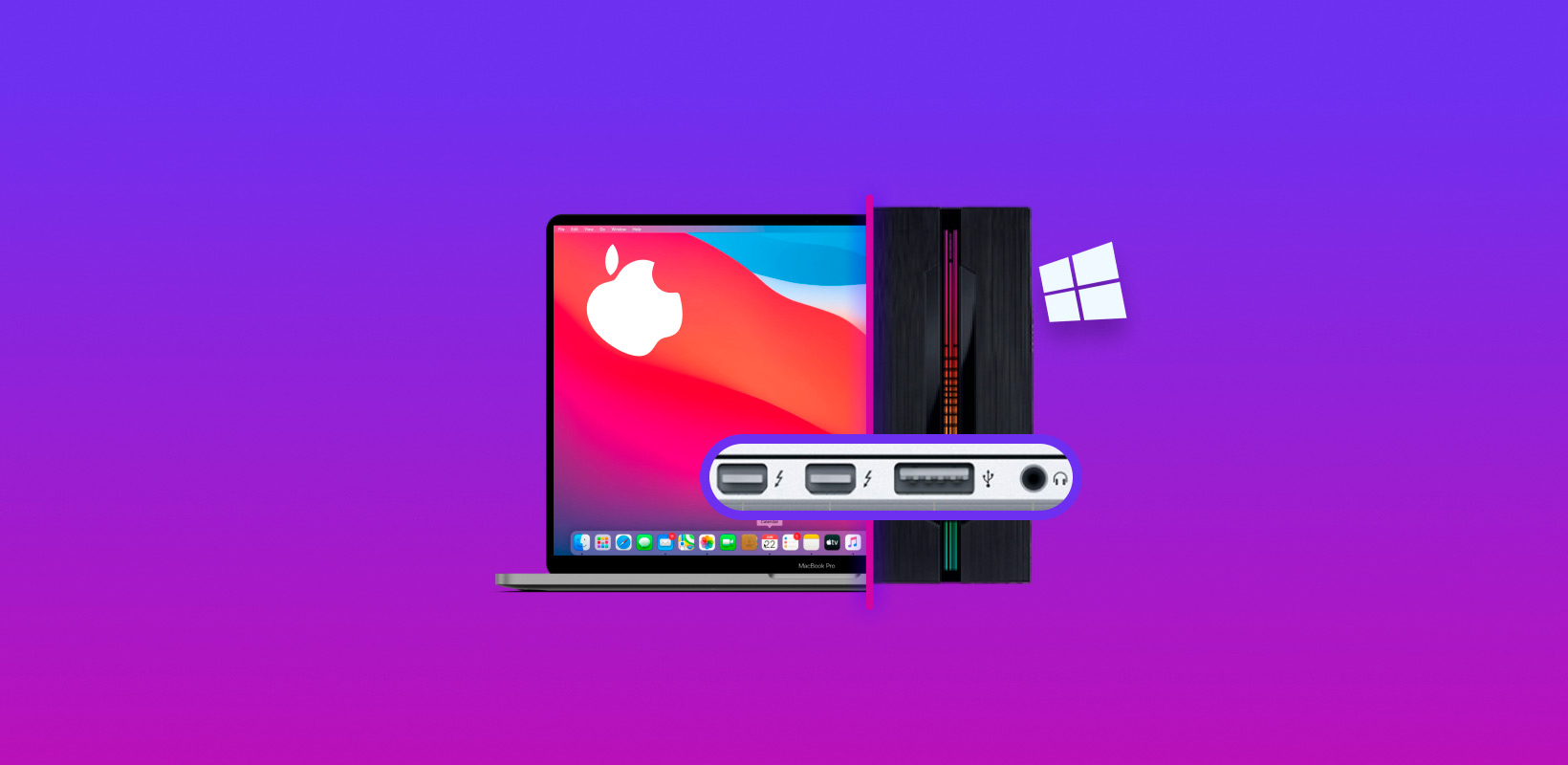 The issue that music producers run into when selecting the best operating system for music production involves the ports on the computer.
Apple provides minimal choices when selecting a new computer. You can choose some hardware improvements, but you're stuck with the USB-C format. If you have a MacBook air, it's a Thunderbolt connection – or nothing at all!
When you connect a microphone or MIDI to your computer, many products still use the standard USB setup. Mac users can still get the results they want by purchasing adapters, but it isn't as user-friendly as the setup a PC offers.
PC and Mac internal microphones and speakers deliver accurate representations of the recorded sounds. Older systems might lean toward Apple products, but anything new is relatively equal.
Here again, the Mac vs. PC debate ends up being about personal preferences. You can use adapters for Apple systems or potentially swap out different PC components to get to where you need.
2. Mac vs. PC: Functionality
When comparing Mac vs. PC for music production, Apple systems tend to have more stability right out of the box. Today's computers come preloaded with GarageBand and other tools that help with your music production work right away.
If you want a system that scales upward as your music influence grows, a PC can offer a couple of benefits. It's usually easier to upgrade more components with a Windows-based system, and you might have easier sharing opportunities if others in your creative circle all use DAWs that rely on Microsoft structures.
The decision here is based on what you expect your future needs will be. You can have more now with Mac or potentially extra benefits later with a PC.
3. Mac vs. PC: Ease of Use
Mac computers have the reputation of being easy to use. Although you don't receive a tree-based menu format, you can access Launchpad to find the app icon you need. It's only a couple of clicks for you to launch GarageBand or your preferred DAW. If you have a touchpad with your Apple system, it can serve as your primary mixing board in some software solutions.
Windows might require more steps, but it has improved the workflow processes and navigational cues with its latest updates. The user interface usually takes more steps to complete, but you'll eventually get to where you need to go.
When looking for the best OS for music production, both options feature virtual desktops, nearby sharing, and improved menu structures.
If macOS has one real advantage, it is the AirDrop feature. When you have multiple musicians and audio mastering projects happening simultaneously, you can instantly transfer files with this feature. PCs can use Bluetooth or Dropbox for a similar experience, but it typically takes longer and requires more steps.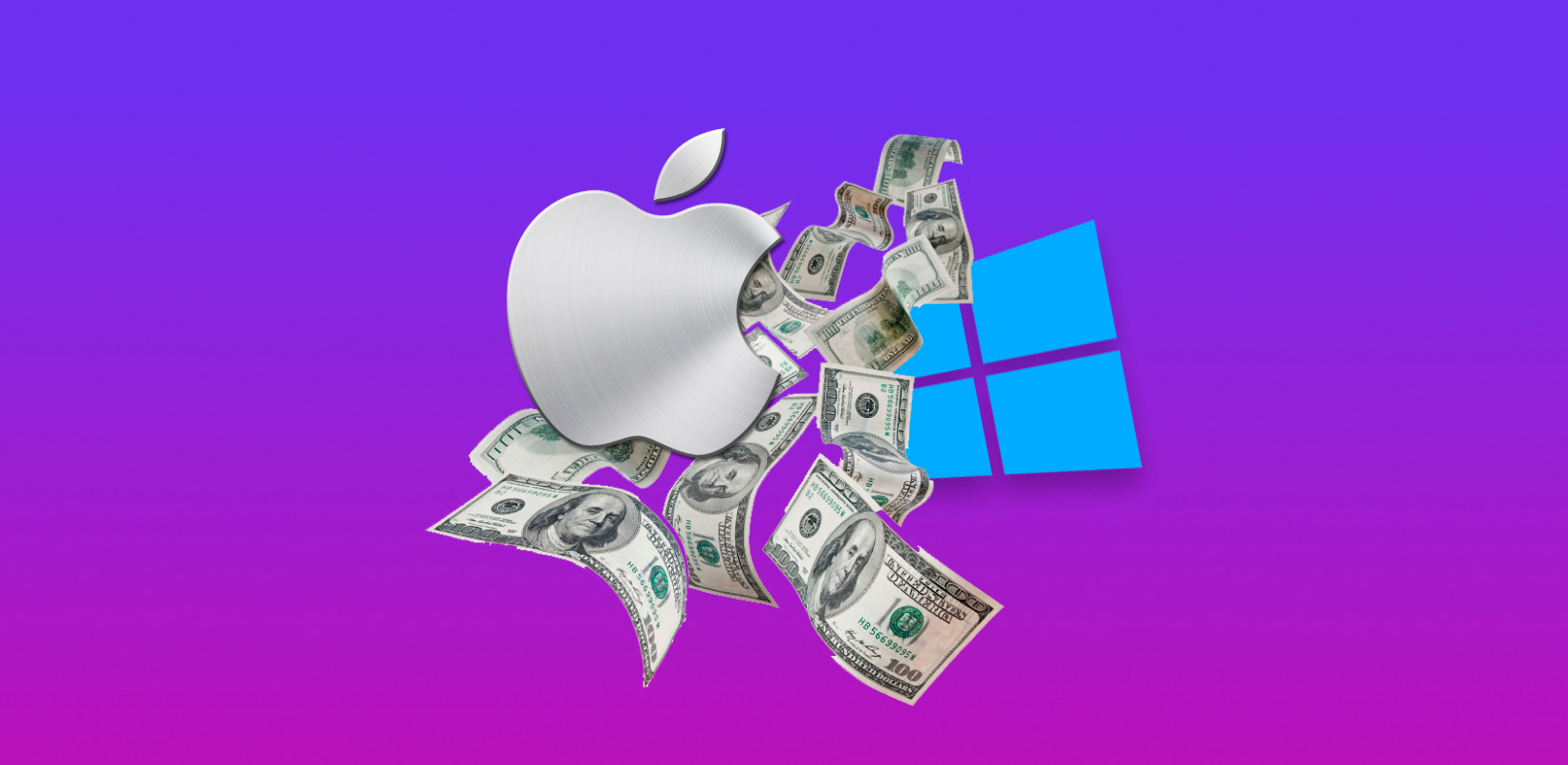 When looking at this comparison point, you must also think about what you want now versus what you expect later.
You'll pay more for an Apple computer now. If you buy a PC, it'll cost you more to operate it for over five years.
You also have hardware modification issues to manage if you choose a Windows-based system. When you buy a Mac, you have everything you need to start recording. You can even use the internal microphone to record vocals while using the Magic Keyboard to produce virtual instruments.
With a PC, you might need to modify your hardware to ensure the DAW operates correctly. By the time you took an entry-level Windows-based system to the level of a Mac, you'll have spent about the same.
Some PCs are even more expensive than entry-level iMacs today.
5. Mac vs. PC: Customization
You can customize your Mac or PC setup to meet your music production needs. When you look at Apple systems, you're limited to third-party additions, RAM upgrades, or additional storage.
If you decide to use a PC for music production, you can customize everything from your audio interface to your networking needs. It allows for higher levels of individualization, which is often necessary when recording music at home.
Although Apple used to hold an advantage in this category because of their access to loops and sounds, providers like Pond5 made it a moot point. You can also create custom loops with almost any DAW today on either operating system.
Reasons to Choose macOS for Music Production
If you love using Apple products, it makes sense to use macOS for your music production needs. You'll have a DAW and connections that work well for your recording needs. Before you start the composition process, you'll want to look for a 1/4-inch jack to USB-C or Thunderbolt adapters to ensure your instruments can record tone accurately.
When you need to connect a MIDI to macOS, you might need an adapter that offers the USB-C and Thunderbolt transfer in one product.
Once you have the logistics sorted out, here are the reasons to consider macOS for music production today.
Logic Studio Infrastructure
In the past, LogicPro alone was the reason why so many musicians went with Mac computers. Although the software accessibility has changed, Apple hasn't removed this infrastructure. When you choose a PC-based DAW, the chances are good that they're trying to replicate these features.
Why choose a clone when you can enjoy the benefits of using the original?
You can still upgrade to Logic and import your GarageBand projects. Several upgrades, including the impressive Alchemy synth addition, provide lots of customization options.
If you need to get your creative energy out immediately, macOS delivers a comprehensive plug-and-play design that works with almost any studio setup. You can get your operating system functional, connect your instruments, and launch your DAW within an hour of getting the computer home.
Apple systems take all of the work out of finding drivers for the various components you use for your music production needs. It just works.
Since your MacBook is a portable music production tool, you can take it to the live stage or a professional studio to keep taking advantage of the plug-and-play design.
Hardware and Software Quality
Although you have fewer choices when determining your hardware build with macOS, you typically have more surety with the outcome. You're purchasing a high-spec machine that doesn't require an upgrade to be usable for musical production.
Mac's software solutions are influenced by the results that today's successful musicians create with their equipment. Creative partnerships throughout the industry ensure that you have what you need as a beginner, part-time gig player, or full-time artist.
There might be more similarities than differences in this area when pondering Mac or PC for music production, but longevity is firmly on the side of Apple products.
Most Macs continue functioning well for 6-8 years from the time of purchase. If you work on a PC, it might be 12-18 months before you need to upgrade some of your hardware components to support your creative work.
You can operate a MacBook with 256 SSD to get a high-speed recording and sharing solution for music products. You'll want an external storage drive to store your audio files and keep records, but the hardware and case are about as light and thin as you can get today.
Even if you don't have a lot of money to spend, a standard 13-inch MacBook Air still comes with 8 GB RAM as the stock setup. You can handle plenty of tracks and sound effects with your DAW on this entry-level machine.
You also get the Retina display on Mac systems if the computer is from 2012 or newer. It reduces the weight even further to make your traveling responsibilities simple and straightforward.
Solid State Drives Are Standard
Unless you purchase an older model or the 13-inch MacBook Pro, you're getting the super-fast SSD technology standard. That means you can cut through the performance issues that older models had because you instantly access files. When you have a massive recording to load, you can speed up the process by 10% or more.
That benefit translates to more time mixing or recording and less time watching a spinning wheel on your screen.
Reasons to Choose a Windows PC for Music Production
When you prefer using a Windows PC for your everyday needs, adding music production to that list makes sense. Why disrupt the network you have at home unless there's no other choice?
The one challenge you'll notice immediately with a PC-based home music studio is that the Windows Audio driver is not well-suited to music production.
You'll want to invest in an above-average audio interface to ensure your music gets recorded and played as intended.
When you select a PC for your music production needs, you have unlimited options for configuration. You can even build your computer from scratch if that's necessary to create the sounds and songs found in your creativity.
You'll discover different chipsets, motherboards, RAM configurations, and much more let you create the perfect system.
That means you don't need to adapt your playing or composing style to fit the needs of a predetermined configuration.
If your music takes off, you'd need to purchase another Mac to get the next feature set needed for your work. When you have a PC, you can add, replace, or subtract the necessary components quickly.
Even if you decide to get going with a starter build, you can get an AMD PC with 16 GB RAM and a 1 TB SATA SSD drive for under $500. That means you could buy two of those for the price of a single Mac.
It also lets you put some money aside for future upgrades while keeping your initial costs low.
When you compose music on a PC, you'll need fewer adapters to connect your instruments and microphones.
Although Bluetooth can stop the need for some corded connectors, MIDI and USB often deliver more accurate sounds without any micro-lag. Since PCs don't use the Lightning or Thunderbolt technologies, you're usually getting a combination of USB, USB-C, and HDMI ports with your default setup.
That means you can start putting new sounds into your DAW almost immediately.
You might get more computer from an initial macOS purchase. Still, a PC delivers a better creative environment by eliminating the need to source multiple adapters for potentially every instrument in your collection.
A Final Thought: Mac vs. PC for Music Production
With the way computing technology evolved in the past ten years, a Mac or a PC is a suitable choice for music production.
The final choice depends on what you hope to accomplish.
If you plan to play gigs, become a DJ, or even tour locally, macOS offers the most benefits for those specific needs.
When your goal is to record and distribute music at home, it might be better to select a PC for your music composition.
As long as your setup makes you feel comfortable and happy, nothing else matters!