You keep a lot of valuable information on your Mac. You need to take the necessary steps to protect your data from corruption or accidental loss. The best way to provide this protection is to regularly back up the data on your Mac. A backup lets you easily recover from a failed hard drive or malware attack.
There are many backup solutions available for Macs. We are going to look at the best backup software for Mac to give you an idea of the choices available to you so you can better protect your valuable data.
Top 6 Best Backup Solutions for Mac
With all the backup solutions in the market, it's important to choose the right one for your situation. Mac backup software reviews are a good place to get a look a some of the options from which to make your selection. In some cases, a particular backup tool with particular features may be needed to address a specific scenario. In other cases, you might just be looking for the best way to back up data on your Mac.
A major choice you have to make is whether you want to back up your data locally to an external hard drive or storage device. While this was once the only way to perform Mac backups, you can now also find cloud-based backup software solutions for Mac. It's worth noting that a cloud backup solution requires an Internet connection to perform a restore. A local solution only requires you to access the media on which the backup is stored.
1. Disk Drill
If you're looking for the best way to back up your Mac, download Disk Drill data recovery software. The tool offers users a simple method of creating a byte-level backup that can be used to protect your valuable data in multiple ways. The backups you create can safely store your data or enable you to save information from a failing device for subsequent recovery.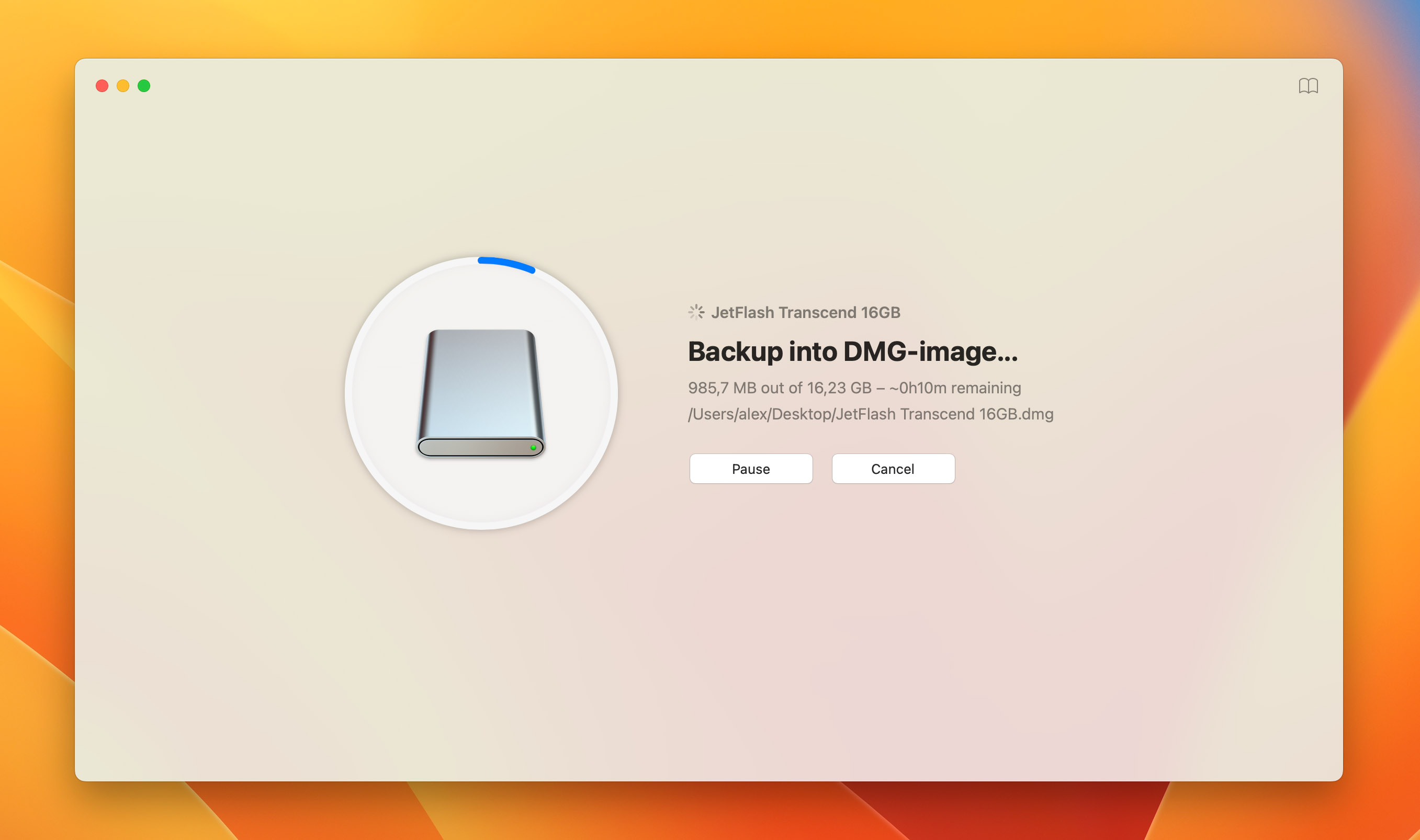 Byte-level backups are especially useful to address a failing drive. By copying every byte on the device, you can use the backup to recover existing and deleted files from the failed drive. While you can create the B2B backup with the free version of Disk Drill, you will need the Pro version to restore the files.
Disk Drill is a comprehensive data recovery and backup tool that is packed with data management and protection features. The software has a simple and intuitive interface that makes it easy for any user to access all of its powerful features. It's compatible with virtually any disk-based storage device.
The Recovery Vault feature, included with the free version of the tool, provides a streamlined method of protecting important data on a specified drive or partition. It saves metadata when a file is deleted and allows for recovery without upgrading to a paid version of Disk Drill.
📎 In addition to byte-level backups and excellent recovery capabilities, the software can help you save space on your hard drive and perform S.M.A.R.T. monitoring. Check out this review for a complete rundown of the
other features of Disk Drill
that make it an excellent value.
✅ Pros:
Superior recovery and backup capabilities
Intuitive user-friendly interface
Extensive knowledge base
Recovers hundreds of file format
Supports Intel and Apple silicon processors
Creates byte-level backups
Windows version is available
Free data protection and management tools
📛 Cons:
The free version only identifies files that can be recovered by the Pro version of the tool
No phone support
💲 Pricing policy: Disk Drill's free trial allows users to identify the files that can be recovered by the Pro version and includes all the extra tools. The Pro version of the tool with unlimited data recovery costs $89.
2. Carbon Copy Cloner
You can download Carbon Copy Cloner from the tool's website and try the software with a free 30-day trial. Carbon Copy Cloner provides users with multiple methods of backing up their Mac depending on their specific needs. It's a flexible solution that lets you back up your valuable data stored on internal or external drives. Users can choose to back up only selected folders or entire drives to another Mac or an external storage device.
A nice feature of this backup solution is the ability to schedule backups in whatever way you like. Backups can run on an hourly, daily, weekly, or monthly schedule. The tool can also be configured to begin backing up as soon as the backup drive is connected to your Mac.
Carbon Copy Cloner provides fast backups and email notifications that furnish the results of your backup tasks. You can create snapshots with the tool to capture a picture of your files at an exact point in time and Snapshot Navigator makes it easy to find older files for recovery.
✅ Pros:
Many backup options
Scheduled backups for enhanced data protection
Fast backup speeds
Backups can be paused
Apple Dark Mode support
Supports Intel and Apple silicon processors
Knowledge base with instructive tutorials
Smart incremental backups
📛 Cons:
Updates may be necessary and costly when the macOS version changes
The interface needs work
Only runs on macOS
💲 Pricing policy: Carbon Copy Cloner offers customers a free 30-day trial. Upgrading to a personal and household license cost $49.99.
3. Backblaze
You can access this cloud-based backup solution through the Backblaze tool's website. Backblaze offers Mac users unlimited cloud storage with no file size or bandwidth speed limits. Members of the tool's development team worked for Apple giving them additional insight into creating a viable backup solution for the Mac with Xcode.
By default, Backblaze backs up all of your Mac's files, so there is no need to configure the tool to protect your data. The tool can run alongside the macOS Time Machine backup tool to provide additional data protection. You can have a cloud and local backup version of your important files and folders.
You can easily clone a disk by backing up your data to the cloud and recovering it to a new device. Backblaze is a lightweight solution that uses less than 1% of CPU and memory on average. Its fast operation is provided with optimizing features such as only reading data once and slowly scanning your drives. The tool requires macOS 10.9 or higher and 5GB of free space.
✅ Pros:
Automatically backs up changed data to the cloud
All backup files are encrypted
Simple installation and usage
Unlimited cloud storage
Lightweight performance with no driver installation
A Windows version is available
📛 Cons:
Default only retains deleted items for 30 days
Extra charge to retain deleted items for an extended period
Website response can be slow
💲 Pricing policy: Backblaze offers a free 15-day trial. The cost is $7 per month, $70 per year, or $130 for two years.
4. Get Backup Pro
You can download Get Backup Pro from their website and start backing up your Mac to protect your valuable information. The tool offers advanced backup features that allow you to create backups, archives, clone disks, and sync the folders on your Mac. This solution can perform full or incremental backups to save space. Additional space is saved by compressing backup files which makes them up to 60% smaller.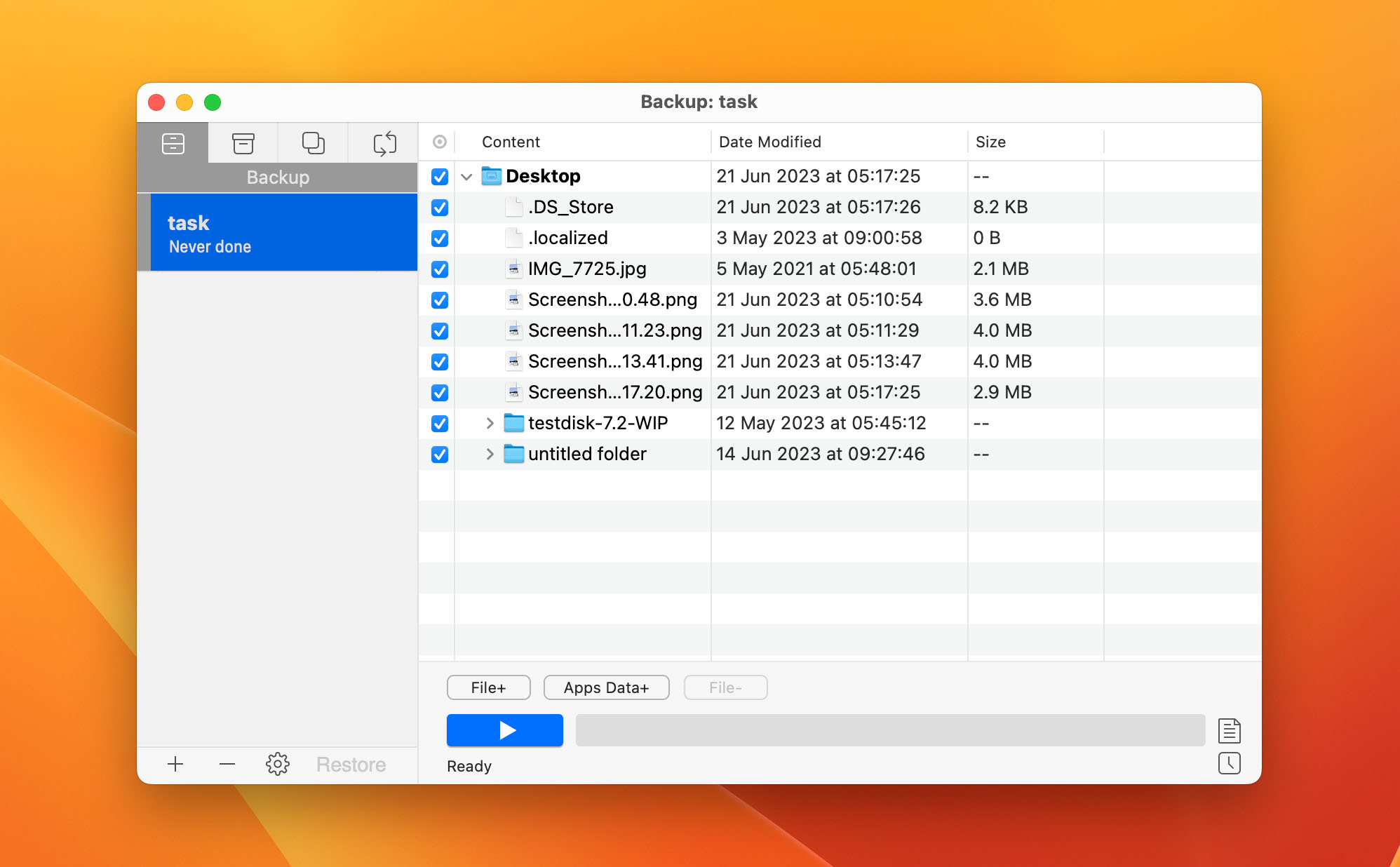 Get Backup Pro lets you encrypt your data to keep it safe from unauthorized entities. You can choose from AES-128, AES-256, Blowfish, or Triple DES as the encryption method. Files can be backed up and archived to an external HDD, CD, or DVD. Recovery can be performed on any computer without installing Get Backup Pro on the machine.
The tool lets you create bootable APFS/HFS+ clones of your hard drive for use if your system crashes. You can schedule backups to make sure you never miss one or backup immediately after making changes to your system. Folder synchronization lets you keep updated versions of your files in two different locations.
✅ Pros:
Offers multiple encryption methods to protect your data
Automated backup schedules keep your data protected
Back up data to CDs or DVDs
Simple to use
Unidirectional and bidirectional folder synchronization
📛 Cons:
Some users report unaddressed bugs
Reports of slow backup performance
💲 Pricing policy: Get Backup Pro offers a free trial and costs $29.99 for a single license. A pack of five licenses is available for $49.99.
5. EaseUS Todo Backup
EaseUS Todo Backup for Mac is a reasonably priced backup tool that can protect your computer's valuable information. The tool enables users to create full, incremental, or differential backups with templates designed to facilitate protecting iTunes, email, documents, contacts, and photos. This Mac backup solution lets you encrypt your backups for additional protection and compress the backup files to save storage space.
Todo Backup complements Apple's Time Machine and lets you archive files to an external drive, network-attached storage device, or CD/DVDs. Disk volumes can be cloned to create a bootable backup disk in case of an emergency if macOS fails. The cloning feature also makes it easy to migrate to a new drive. The folder and file synchronization feature lets you keep updated versions of your files in two locations.
The backup solution supports all versions of the Mac operating system from 10.9 to the newest version of macOS. A somewhat dated interface modeled on Windows Explorer enables users to access all of the tool's features easily. From this interface, you can launch backups, archives, disk clones, and manage file synchronization.
✅ Pros:
Backups are encrypted and compressed
File and folder synchronization
Archive files for long-term storage
Clone disks for easy migration to a new device
📛 Cons:
Outdated-looking user interface
Lack of information regarding failed backups
💲 Pricing policy: EaseUS Todo Backup offers a free trial and costs $29.99 for a single license.
6. Time Machine
Time Machine is a free backup tool that comes bundled with macOS. Yes, your Mac has backup software preinstalled. It's the best free backup solution for Mac and by far the cheapest way to protect your important files and folders. Even novice Mac users can back up and recover files from a Time Machine backup.
All you need to protect your Mac's valuable data is an external storage device to hold the backup data. After connecting the drive to your Mac, start Time Machine and select the Back Up Now option. If this is the first time you are backing up, it may take a long time to complete the process. Don't worry. Subsequent backups will run more quickly as the tool will only back up new or changed files.
The only limitation on the number of backups you can create is based on the size of the external storage device. Time Machine will keep multiple copies until the space on the device is used up. It then deletes the oldest backup copies to make room for new ones. The tool's interface makes it easy to search for the exact file or folder you want to recover.
✅ Pros:
Free with your macOS
Only backs up changed files
Backups run in the background while you continue to use your Mac
Retains multiple backup copies until storage space is exhausted
📛 Cons:
Only runs on Apple computers
Does not produce cloud backups
💲 Pricing policy: Time Machine is a free backup solution for your Mac and is included with the macOS operating system.
Conclusion
We've shown you several viable methods of backing up your Mac and protecting your valuable data. You can choose a solution that is only designed for backups such as Time Machine or Carbon Copy Cloner. If you want to store backups in the cloud, Backblaze offers unlimited cloud storage. Tools like Disk Drill offer users the ability to back up their machines along with data recovery tools that help prevent data loss.
Whichever solution you select, it's important that you use it regularly to protect your data. When disaster strikes, you want a reliable backup that can be used to recover your system.