Have you accidentally deleted crucial files and need a reliable solution? Look no further! This article is your go-to guide for choosing the best data recovery software for Mac. We aim to equip you with the tools and knowledge you need to make an informed decision and effortlessly reclaim your lost data.
Selecting the Best Mac Data Recovery Software: What to Consider
There are a couple of factors to consider when choosing the best Mac data recovery software. Our objective is to guide you to make an informed decision so that you can choose the right application based on your personal needs.
When selecting data recovery software for this article, we considered the following criteria:
🏷️ Features – The features that come with data recovery software are often a major indicator of its usefulness and efficacy. When compiling the list, we identified data recovery solutions with the most useful and well-implemented features that can help you recover your data reliably.
🔍 Usability – Keeping the average user in mind, we looked for user-friendly applications. The best data recovery software solutions make the technically complicated process of recovering lost files accessible even to regular home users with no special IT skills.
🍎 Compatibility – In the fast-evolving world of macOS updates, only the most dedicated developers can keep up. When curating our list of the best data recovery software for Mac, we took special consideration of how frequently each software receives updates to maintain compatibility with the latest version of macOS.
💪 Performance – A common issue with a lot of apps is that they advertise features that do not resonate with actual performance. We tried to find solutions that could recover data in a variety of file formats and in a relatively short period. Nobody wants to waste the whole day just to recover a few files.
💰 Price – We understand that not all people can afford to spend the same amount of money on data recovery software, so we had that in mind when putting together the data recovery software options.
Top 10 Best Data Recovery Software for Mac
Ready to dive into the world of Mac data recovery? Below is a comparative table of our top picks, providing a quick overview of key features, compatibility, and pricing.
| Software | Notable for | Price | macOS 14 Sonoma compatible |
| --- | --- | --- | --- |
| Disk Drill | Best data recovery software for Mac | $99.00 – $499.00 | Yes |
| iBoysoft Data Recovery for Mac | Easy to use | $89.95 – $99.95 | Yes |
| EaseUS Data Recovery Wizard | Recovers up to 2 GB for free | $89.95 – $169.95 | Yes |
| Wondershare Recoverit | Live chat support | $79.99 – $139.99 | Not officially |
| Stellar Data Recovery | User-friendly interface | $89.99 – $149.00 | Not officially |
| Data Rescue | Built-in hex viewer | $79 – $399 | Not officially |
| PhotoRec | Completely free | Free | Not officially |
| R-Studio | Advanced features | $79.99 – $899.00 | Not officially |
| TestDisk | Partition recovery capabilities | Free | Not officially |
| Cisdem Data Recovery | Fast scanning speed | $69.95 — $149.95 | Yes |
Disk Drill is one of the most sought-after solutions for data recovery. The app ranks highly on several technology forums, and its immense capabilities have been praised by many tech enthusiasts and reviewers alike.
The Disk Drill app contains many useful features for recovering data from multiple storage devices, including SD Cards, External Hard Drives, USB Drives, and more. The user-friendly interface makes the app easy to use and is very suitable for users who lack advanced technical capabilities.
The features in the app have been laid out in a manner that makes it easy to recover your lost data with just a few clicks. The main application windows are well structured, with all the options you need to run the data recovery process from start to finish.
Disk Drill can deep scan your storage device to retrieve data in more than 400 file formats by utilizing sophisticated algorithms. The software can deal even with some of the most serious data loss scenarios and recover data from storage devices that are failing or have become corrupted.
The ability to preview files and pause the scan process provides users the convenience and control over what they intend to recover, and when it's most convenient to do so. Features such as the Recovery Vault can provide an extra layer of protection for your files to mitigate future data loss.
✅ Pros:
Compatible with several storage devices and file systems.
Support for more than 400 file formats.
Preview files before recovering them.
Intuitive and user-friendly interface.
Quick scan.
Ability to pause the scan and resume later.
Over 90% data recovery rate.
Byte-to-byte disk backups.
Extra free tools such as S.M.A.R.T Disk Monitoring, disk cleanup, data protection, and duplicate finder.
❌ Cons:
Phone support unavailable.
Can only preview files using the free version.
🍎 Compatibility:
💲 Pricing Plans:
Pro version: $99.00
Enterprise version: $499.00
iBoysoft data recovery for Mac is a serviceable and easy-to-use recovery tool that supports a wide range of file systems and storage devices.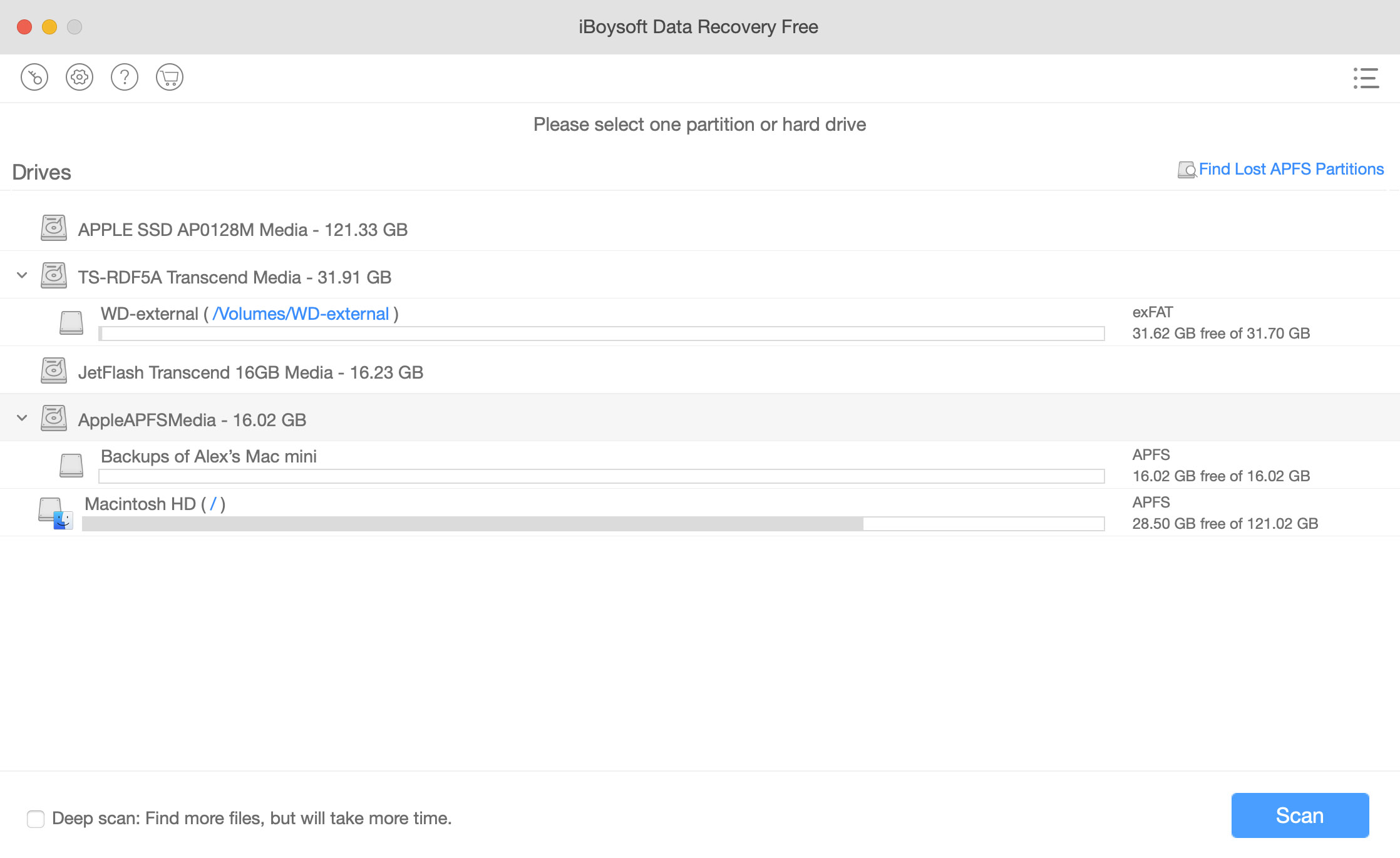 The strong points of this solution are its user-friendly interface and ability to recover data from APFS encrypted drives. This tool was previously known as M3 data recovery software and was recently purchased by iBoysoft.
Users can perform quick or deep scans to address various data loss situations. A deep scan can take multiple hours to run but does provide enhanced recovery results. As a user, you can recover up to 1 GB of data for free, so you can test out the tool before buying it to see if it fits your needs. In cases where you only need to recover a small amount of data, the free version of the application may be enough to get the job done.
✅ Pros:
Can recover data from encrypted drives.
Up to 1GB free data recovery.
Intuitive user interface.
Preview files before performing the recovery.
❌ Cons:
Expensive licensing model.
Cannot pause and resume scans.
🍎 Compatibility: macOS 14, 13, 12, 11, 10.15, 10.14, 10.13,
10.12, Mac OS X 10.11
💲 Pricing Plans:
Monthly license: $89.95
Yearly license: $99.95
A notable app by all standards, EaseUS Data Recovery software is used by many around the world to retrieve data due to its incredible performance and easy-to-use interface.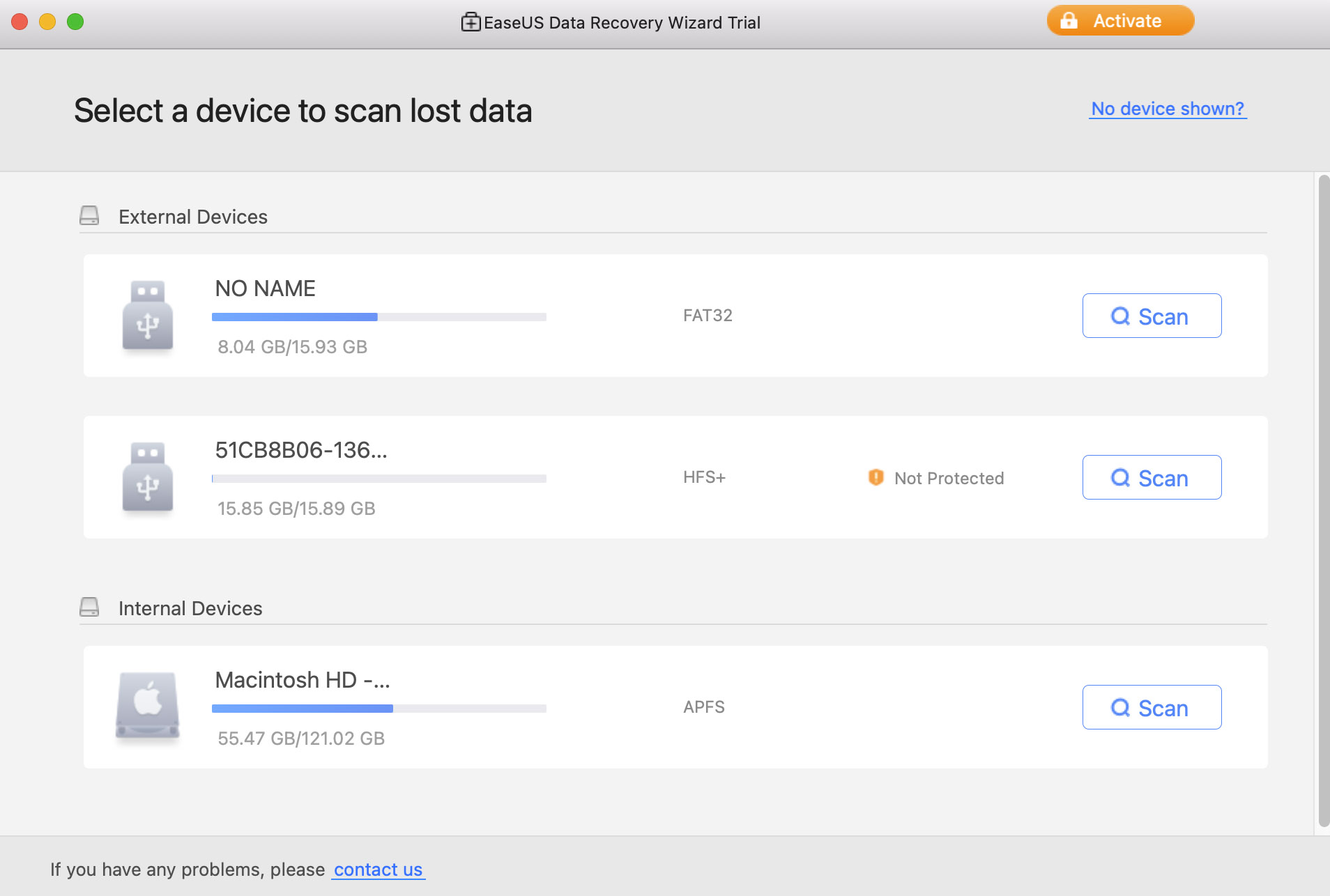 EaseUS Data Recovery deserves a place on this list because of how popular and capable it is. The app has an easy-to-use user interface that allows anyone from pros to newbies to get started with it in no time and use it to recover all kinds of storage devices and over 1,000 different file formats.
Whether you are looking to retrieve videos, images, documents, or some other type of file, rest assured that you will be satisfied with the speed and rate of recovery. The free version is capable of recovering 2 GB just in case you need to retrieve just a couple of files while saving some bucks.
Key features such as Remote assistance, iTunes backup recovery, and bootable USB Drive creation could prove very useful for many users who want a bit more than just basic file recovery.
✅ Pros:
Live chat support.
Superior user interface.
Recover 2 GB with the free version.
1,000+ file formats supported.
Great Performance.
Search, filter, and preview recoverable files.
30-day money-back guarantee.
❌ Cons:
The scan includes both recoverable and unrecoverable files.
Expensive licenses.
🍎 Compatibility: support macOS 14.0 ~ OS X 10.9
💲 Pricing Plans:
Monthly: $89.95
Annual: $119.95
Lifetime: $169.95
Wondershare's Recoverit is a well-established player in the field of data recovery software. The application has been around for quite a while and is capable of recovering many commonly used file formats in an intuitive fashion.
This application allows users to recover some well-known files, including emails, videos, photos, audio files, and many more from storage devices such as USB flash drives, hard drives, and SD cards. Recoverit can restore files from virus-infected storage devices and accidentally formatted drives. Similar to other high-end recovery software, the application supports files in multiple formats, extending the reach of data that can be recovered.
You can also preview files before you recover them. The rate of recovery is somewhat impressive. After attempting to restore some missing items, we were able to recover a good amount of data – more than we expected to recover.
The intuitive user interface makes it easy to run through the entire recovery process without additional help. The bottom line is that the app offers exactly what you need in data recovery software and provides a seamless experience.
✅ Pros:
Preview files before recovering them.
Multi-file formats supported.
Intuitive user-interface.
Great recovery rate.
Live chat and email support.
❌ Cons:
The free version can recover just 100 MB.
Annual licenses are quite expensive when compared to competitors.
🍎 Compatibility: macOS 10.10-13 (Ventura)
💲 Pricing Plans:
Essential: $79.99
Standard: $99.99
Premium: $139.99
Stellar Data Recovery is one of the most widely used solutions for retrieving lost files from storage devices that are failing or have been compromised by virus attacks. The app is reliable for recovering data from newer versions of Macs shipped with the (APFS) files system.
Stellar Data Recovery for Mac is a powerful, intuitive data recovery app for retrieving deleted files from multiple storage devices. The app fully supports APFS and has multiple editions tailored for specific data recovery scenarios.
Common file formats such as PNG, JPEG, TIFF, MP3, MOV, 3GP, and WMA are fully compatible with Stellar Phoenix.
Compared to other data recovery solutions featured, the free version doesn't recover files although you are allowed to scan for them. Therefore, if you are looking to recover data, you need to look beyond the free version.
The rate of recovery doesn't come close to some of its peers like Disk Drill. The user interface is pretty fresh and easy to use. If you are a beginner attempting to recover data for the first time, you shouldn't have a hard time doing so.
✅ Pros:
Recovery from encrypted drives.
User-friendly interface.
Ability to create clone drives for data recovery.
❌ Cons:
Only a few file formats are supported.
Average recovery performance.
🍎 Compatibility: OS X El Capitan 10.11 — macOS Monterey 12
💲 Pricing Plans:
Professional: $89.99
Premium: $99.99
Technician: $149
Data rescue is a good data recovery app for Mac that allows you to recover data from scenarios such as accidental deletion, hard drive corruption, and more.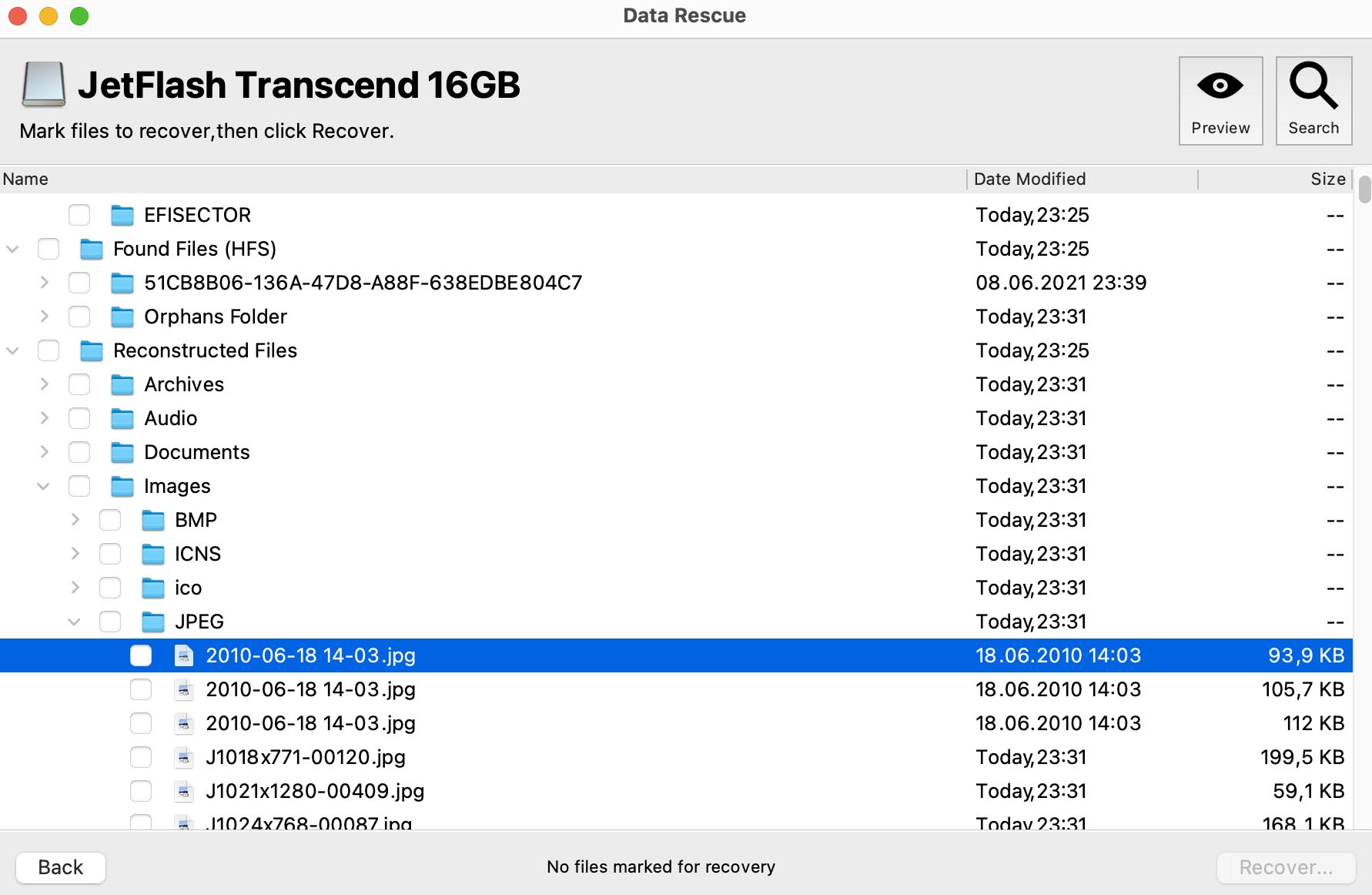 Having been in existence for more than a decade, the application has seen a lot of significant changes over time, with each new edition providing additional features to make data recovery easy. Data rescue is also compatible with many file types and compatible with Mac OS X 10.10 or later.
The Quick and Deep Scan modes are available to deal with separate data loss scenarios. While the Quick scan option is ideal for situations such as a hard drive failing to boot, the Deep scan is recommended for extreme situations such as recovering a permanently deleted file.
The ability to preview files using the Data rescue app is given a bigger boost with the new hex previewer, allowing you to view your files in a raw state before you decide to recover them. A powerful search feature embedded in the app also enables users to locate files easily to help with the recovery process.
Data rescue has a track record of being a secure solution for recovering many types of data and is the go-to option for many law enforcement agencies around the globe. We tried to recover several files and the feedback was well within our expectations.
For Mac users running Mac OS X 10.15 or later, there are certain limitations you may experience while using the app, such as the inability to create a unique startup drive for the basic recovery of a non-booting internal drive.
✅ Pros:
Supports multiple file types.
Preview files before recovery.
Hex previewer available.
❌ Cons:
Limited functionality for Mac OS X 10.15
Can't recover files with the free version.
🍎 Compatibility: macOS 10.12 Sierra – macOS 13 Ventura
💲 Pricing Plans:
Standard: $79
Professional: $399 per year
PhotoRec is a free open-source program for recovering all kinds of data from multiple storage devices. The recovery software is recommended for recovering data from devices due to its reputation as a safe and secure file recovery solution.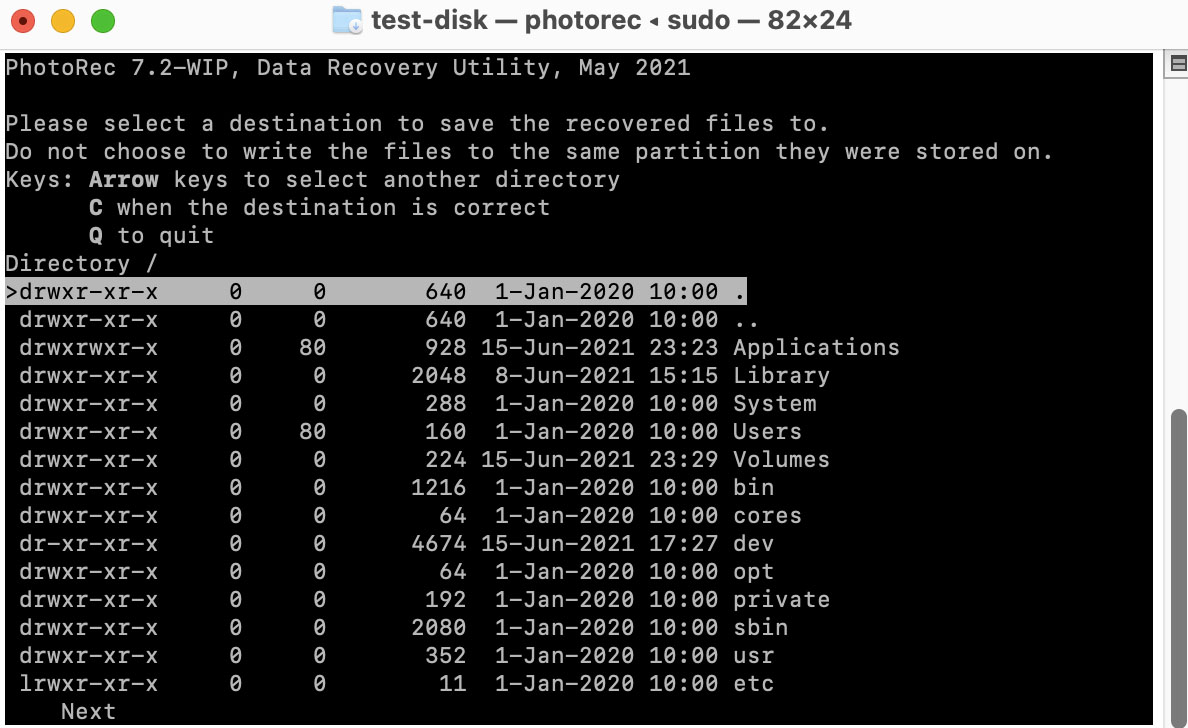 PhotoRec is a popular freeware data recovery tool used to retrieve multiple types of data—not just photos as the name may imply. Data is recovered in read-only mode to make the process more secure.
Despite being a decent data recovery tool, PhotoRec fails to deliver a good experience. One reason is that the app utilizes the command-line interface so it doesn't come across as aesthetically pleasing to use. Users who aren't familiar with the nuts and bolts of data recovery may have a difficult time navigating the features of the app.
Another limitation is that files are recovered using generic names, compelling users to review them and rename them after the recovery process is completed. This in particular makes data recovery in large amounts a dreadful experience. Overall, PhotoRec is a good solution for users who want to recover an unlimited number of files for free.
✅ Pros:
Open-source and free.
Multiple file types supported.
Unlimited Recovery.
❌ Cons:
No support available.
Command-line interface.
Not suitable for inexperienced users.
Files may have to be renamed after recovery.
Automatically restores all files.
🍎 Compatibility: macOS >= 10.6
💲 Pricing Plans: Free.
R-Studio contains advanced features to help with the recovery of data in the most complicated data loss scenarios. The same advanced features, however, make the app less suitable for regular users.
Aimed at professionals, R-studio is an advanced data recovery software tool that can retrieve data from several storage devices including removable drives. Compatible file systems include APFS/HFS+/HFS (Macintosh).
R-studio maintains several sophisticated features that may not be needed to handle simple data recovery. Inexperienced users may have to spend some time studying the extensive user manual to learn the ins and outs of this complicated application. Key features include recovery over network S.M.A.R.T. monitoring, damaged RAID recovery, Disk imaging, and Pro Hex editor.
Overall, R-Studio is equipped with features capable of dealing with some very complex data loss situations. However, the app is most suitable for advanced users, making it a less preferred option for less experienced users.
✅ Pros:
S.M.A.R.T. disk monitoring tools.
Capable of repairing damaged RAID arrays.
Free version available.
Recovers data over a network.
Reliable performance.
❌ Cons:
The free version can't recover files larger than 256 KB.
The user interface is not friendly.
Developed for advanced users.
🍎 Compatibility: macOS 13 Ventura, macOS 12 Monterey, macOS 11 Big Sur, macOS 10.15 Catalina, macOS 10.14 Mojave, macOS 10.13 High Sierra, macOS 10.12 Sierra, OS X 10.11 El Capitan, OS X 10.10 Yosemite, OS X 10.9 Mavericks, OS X Mountain Lion 10.8, OS X Lion 10.7, OS X Snow Leopard 10.6, OS X 10.5 Leopard and OS X Server 10.5 Leopard running on a computer with Apple M1/M2 chip, Intel, PowerPC G5 or PowerPC G4 processors.
💲 Pricing Plans:
R-Studio for Mac: $79.99
R-Studio T80+ for Mac: $80.00
R-Studio Corporate for Mac: $179.99
R-Studio Technician: $899.00
TestDisk is a free and open-source data recovery utility that is designed to recover lost data storage partitions and fixes disk booting errors arising from faulty software or accidental partition deletion.
Besides helping to fix disk errors, TestDisk doubles as an effective solution for recovering partitions that have disappeared as a result of accidental deletion or virus attacks. Because TestDisk is designed to recover partitions and not individual files, you have to skim through thousands of files to identify their properties manually.
Similar to PhotoRec, TestDisk relies on a command-line user interface, making it less than suitable for average users. That said, the recovery process itself is actually relatively straightforward, and it consists of a series of easy-to-understand steps, which are explained in great detail in the official guide.
In terms of data recovery performance, TestDisk can undelete files from most major Windows, Linux, and macOS file systems. The biggest omission is the APFS file system, which is what all modern Macs use by default. Still, it's hard to complain considering that TestDisk is completely free.
✅ Pros:
Great Performance.
Can restore partitions.
Open-source and freemium.
❌ Cons:
🍎 Compatibility: macOS >= 10.6
💲 Pricing Plans: Free.
10. Cisdem Data Recovery
Cisdem Data Recovery for Mac may not be a standalone entity—it's a clone of EaseUS Data Recovery Wizard. However, you shouldn't let that completely overshadow its merits.
The main selling point of this data recovery software for Mac is undoubtedly its ease of use. Even if you're new to the world of data recovery, Cisdem Data Recovery's intuitive interface ensures a smooth experience from start to finish with its step-by-step process for scanning and recovering your lost files.
The scanning speed is commendably fast, and the software supports recovery during scanning, allowing users to multitask without affecting the scanning process. For Mac users, Cisdem Data Recovery can offer native compatibility with Apple Silicon Macs, saving on processor load.
However, the software isn't without its cons. For example, it doesn't support S.M.A.R.T. disk information and struggles with EXT file systems. Additionally, the app lacks a user-friendly disk image creation tool and other features often found in competitors, like disk cleanup and data shredding.
✅ Pros:
Easy to use.
Detailed scan results.
Fast scanning speed.
Supports recovery during scanning.
Native compatibility with Apple silicon Macs.
❌ Cons:
Clone of EaseUS Data Recovery Wizard.
Limited preview capabilities.
No S.M.A.R.T. support.
Struggles with EXT file systems.
🍎 Compatibility: macOS 10.9 or later
💲 Pricing Plans:
Monthly: $69.95
Annual: $99.95
Lifetime: $149.95
Conclusion
Even when you adhere strictly to best practices intended to keep your data safe and secure, some unforeseen circumstances will leave you with little to no alternatives other than to depend on data recovery software for retrieving your data. Physical damage to your PC or even computer upgrades can make your files disappear.
This article contains a comprehensive list of apps you should consider when attempting to recover files from your Mac. Unlike other forums and online outlets, this review is based on multiple reviews, backed by our own experience so we are confident that your search for the best data recovery apps for Mac ends here.