DiskWarrior claims to be able to scan, repair, and recover damaged files even from formatted partition drives. This is indeed an important function that not all data recovery software can do.
But, getting a bit ahead, the way DiskWarrior handles data recovery raises a lot of questions and concerns. On top of that, it doesn't come with a free trial. This might deter some users, especially those who have little to no experience with data recovery software. The good news is that there are many macOS data recovery software on the market right now, among which you can easily choose a set of alternatives to DiskWarrior for different needs and budgets.
In this article, we will discuss our top picks of software like DiskWarrior for you to choose from.
Is DiskWarrior Still Relevant in 2022?
DiskWarrior may have been around for a few decades, but the competition has become quite tough since it first started. It is now harder to figure out which data recovery software is the best.
With new macOS and updated Apple chips being released almost every year, it is important for any software to be able to keep up with these types of technology updates. However, DiskWarrior lags in that department.
Its latest version was updated in 2018 and it is compatible only with macOS 10.5.8 – 11.0. Additionally, DiskWarrior only supports HFS and HFS+ drives, but Apple has been using ApFS as its default file system for quite some time now. All these combined means you can't use DiskWarrior on new Macs or Macbooks, making it less relevant in 2022.
Why You Should Use an Alternative to DiskWarrior
When you have a go-to product or brand, you might feel that what you have is already the best. However, that's not always the case. If you open yourself up to new discoveries, you'll find that there are actually plenty of software like DiskWarrior that are better.
Here are some of the reasons why you should consider DiskWarrior similar software:
Outdated: Does not support modern Mac devices and new versions of the macOS system.
Expensive: There is no free trial with DiskWarrior and the price to start recovering files is higher than most data recovery apps.
Limited Support and Bad Recovery Rates: The data recovery algorithm for Diskwarrior is subpar at best, not to mention it has no support for tons of common file systems like MS Office and other popular file formats.
Constant software updates: The alternatives to DiskWarrior constantly update their apps to improve the fixing of bugs, additional features, and compatibility with the new macOS.
Unlock more functions and features: More than being adept at data recovery, DiskWarrior's similar software also offers additional features such as data protection and file preview.
Free trial and lower pricing plans: With the DiskWarrior alternatives, you can try them out for free before getting the paid versions, some for as low as $59.99. This is much cheaper compared to DiskWarrior's base price of $119.95.
Top 5 Best DiskWarrior Alternatives
Having said that, we compiled a list of the five alternatives to DiskWarrior that can provide you with a better data recovery experience.
Disk Drill is one of the most straightforward data recovery software out there. It has a beginner-friendly user interface, which makes it easy for anyone to recover their lost and deleted data.
Additionally, unlike DiskWarrior, Disk Drill's latest update enables it to run on M1 Macs and macOS Montereys.
Below, we listed down the Pros and Cons of Disk Drill. But if you would like a more in-depth guide, feel free to check out our Disk Drill review.
PROS:
User-friendly interface
Has two scanning mode options: Quick Scan and Deep Scan
Supports HFS and HFS+, and even ApFS drives
Can recover files even on a corrupted or a reformatted SD Card
Contains added features to protect your files such as byte-to-byte backup, data protection, and disk cleanup
Recovers more than 400 file types
Comes with a free trial. Pay only $89 for the PRO version
Supports all versions of the Mac operating system from macOS X 10.5 to macOS Monterey
Also supports iOS and Android
CONS:
You won't be able to recover a file using the free version for Mac
Doing a deep scan will take some time to finish
PhotoRec is an open-source data recovery software. It is completely free to use and you get to recover an unlimited number of files. The only catch is you need to be familiar with the command-line user interface. But this is something that you can easily learn with a few online tutorials.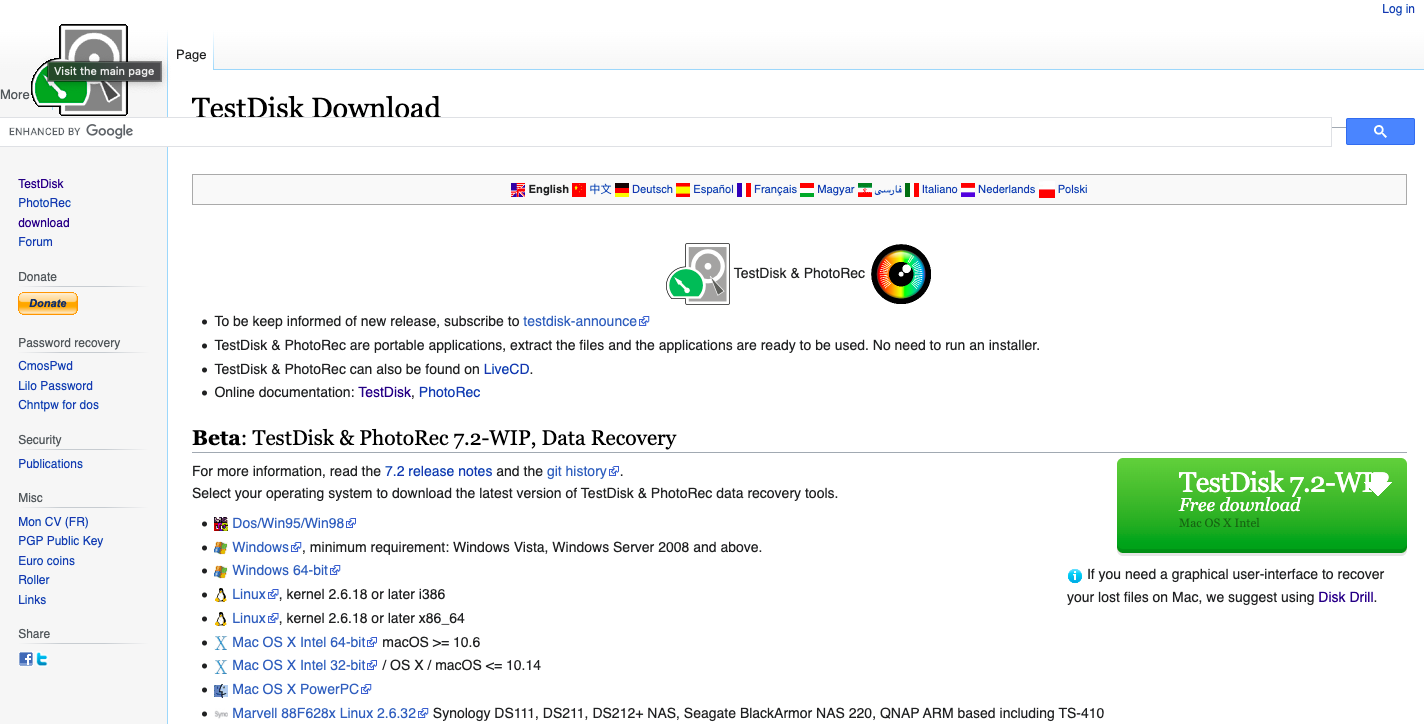 If you're tech-savvy or don't mind the challenge of learning something new, this DiskWarrior alternative may be the best for you.
Another open-source software from the same developer as PhotoRec is TestDisk. It also has the same function as PhotoRec, but it is more specialized in the recovery of entire file systems and partitions.
Below are the pros and cons of both PhotoRec and TestDisk.
PROS:
Supports several file types
Free usage with unlimited recovery
Open-source with the capability to recover more than 400 file types
CONS:
No preview options available
No graphical user interface
Does not support APFS file system
Free trials that give the opportunity to recover some files is a big plus, and this is one of the things that EaseUS Data Recovery offers that DiskWarrior does not.
The website of EaseUS Data Recovery Wizard is also very useful, with several resources and how-tos that guide first-time users on how to navigate the software.
PROS:
The free version can recover up to 2GB worth of files
Ability to fully restore data after a laptop crash
Flexible data recovery process that can recover data even while scanning is ongoing
Supports Time Machine and iTunes back ups
CONS:
The important additional features are only available on the paid version
Limited file preview
More expensive than its competitors at $89.95 a month
Wondershare Recoverit has been one of the most trusted data recovery software since it was launched in 2003. In fact, it boasts of a 95 percent recovery rate and is known to recover certain file types that other data recovery software can't.
The free trial lets you recover up to 100 MB worth of files. If that's not enough, you can try purchasing their cheapest plan priced at $79.99 for a one-year license, or $75.99 for a month just to test it out. Don't worry if you're unsatisfied with their product because this DiskWarrior alternative offers a 7-day money-back guarantee.
PROS:
Intuitive interface with easy 3-step recovery process
Advanced scan algorithms
Supports 1000+ file formats
Supports multiple languages
Has the capability to repair corrupted videos
Can recover lost data from over 2000 storage devices and 500 different scenarios
24/7 free tech support
CONS:
The more important features are only available on the pricier versions
Limited file preview
A vast majority of users cheer for Stellar's well-designed user interface that is simple and easy to understand. Users won't get confused about which step to take or which button to click next.
Another good thing about Stellar Data Recovery is you can choose to scan a specific folder in the drive instead of the whole thing. This makes the scan quicker and the recovery process more efficient.
Though you can recover up to 1 GB of data on the free version, we still recommend you avail of their standard plan that's priced at $69.99 a year. With this plan, you are already able to recover an unlimited amount of permanently deleted data from all Mac storage devices.
PROS:
Free version lets you recover up to 1GB of data
Easy, 3-step recovery process
Supports different file systems: HFS, HFS+, and ApFS
Can recover over 200 file formats
CONS:
Users are required to renew their license yearly
Some users have complained about the customer support
Unlocking the additional features will require you to pay more
Conclusion
While DiskWarrior is a decent data recovery software for Mac, there are definitely similar software that are better, more up-to-date, and compatible with the latest macOS.
DiskDrill is, overall, the best alternative if you're looking for a program like DiskWarrior. However, you can also try PhotoRec, EaseUS Data Recovery Wizard, Wondershare Recoverit, and Stellar Data Recovery as these are great options too.
Check out these five we listed here, but at the end of the day, it's up to you to choose the software that best fits your needs and your budget.