Macs come with a wonderful collection of software applications that make it possible to accomplish virtually all essential tasks, from browsing the web to editing text documents to sending email messages.
But one critical piece of software is missing: a data recovery app.
Fortunately, there are multiple third-party data recovery apps that fill this gap, and, in this article, we're analyzing Disk Drill for Mac to see if this popular solution is still worth your attention in 2023 (hint: it is!).
TL:DR; Disk Drill for Mac has evolved from a humble but capable data recovery tool into a comprehensive toolbox containing all data recovery and storage device management tools you could possibly need to recover your files and keep them organized.
Disk Drill 5 for Mac basic information:
| | |
| --- | --- |
| Requirements | macOS 13 Ventura to 10.15 Catalina |
| Category | Data Recovery Software |
| Distributed as | Freemium |
| Basic version | Free |
| Pro version | $89.00 |
Part 1. Close Look at Disk Drill's Data Recovery Process
Many people who have no previous experience with data recovery believe that it takes a real expert in a white lab coat working at a state-of-the-art facility to recover permanently lost data after accidental deletion, formatting, malware infection, or extensive corruption.
The latest version of our test subject, Disk Drill 5, proves that the recovery of lost data can take just a few simple steps that don't require any special knowledge or skills to complete.
When we tested Disk Drill's data recovery process, we had a clear objective in mind. Our goal was to recover the following three files:
📄 A text file saved with the TXT file extension.
🖼️ A high-resolution JPG image.
🎞️ A short video clip saved in the MOV video container format.
Our little test was completely successful, and we were able to quickly and effortlessly recover all three files. Here's each and every step we had to go through:
1.1 Disk Drill Download and Installation
We downloaded Disk Drill for Mac free of charge from its official website. The free version can be used to scan an unlimited number of storage devices and preview an unlimited number of recoverable files.
The free version can't, however, actually save any lost files (it can only preview recoverable files to verify their integrity). To do that, you need to purchase Disk Drill PRO, and you can find more information about it and its price later in this article.
To install Disk Drill, we had to double-click the downloaded installation file and drag and drop the Disk Drill icon into the Applications folder. It took just a second or two for all data to be copied.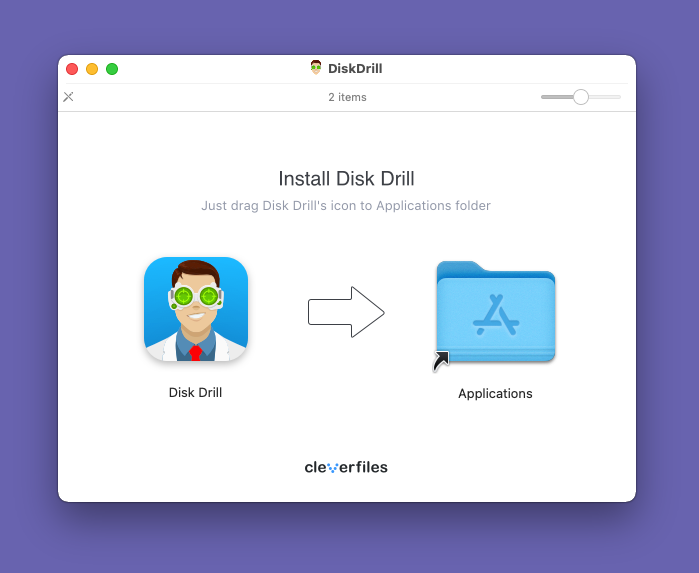 1.2 First Launch and Initial Setup
Just like other data recovery apps for macOS, Disk Drill needs certain permissions to scan storage devices at the file system level and recover lost data. The good news is that you need to give it the necessary permissions just once.
First, we launched Finder, navigated to the Applications folder, and double-clicked the Disk Drill icon. We were then asked to confirm our decision to launch Disk Drill by clicking the Open button.
Finally, we were asked to grant Disk Drill Full Disk Access by dragging its application icons into the Full Disk Access list, located in System Preferences > Security & Privacy > Privacy. This is something you have to do just once.
1.3 Storage Device Scan and Data Recovery
With Disk Drill installed and ready for use, we initiated a scan of our storage device (an internal hard drive) to find all recoverable data. More specifically, we selected the hard drive from the list of available storage devices and clicked Search for lost data.
The scan itself took some time to complete, but that's probably because we used a fairly slow hard drive. A modern SSD would likely reduce the scan time considerably. That said, we were able to preview recovery results while the scan was still in progress, which saved us a lot of time by allowing us to find our test files before the scan finished.
Since Disk Drill for Mac has a built-in preview feature and plenty of scan results filters to narrow down the number of recoverable files, we were able to quickly find what we were looking for and verify the recoverability of our test files before adding them to our recovery queue by clicking the checkboxes next to them.
From there, getting the selected files back took just one click on the Recover button, which caused Disk Drill to ask us to specify the destination folder.
Verdict
Disk Drill for Mac was able to recover all of our test files, and we found the recovery process itself to be hassle-free and pleasant. At no point did we find ourselves wondering which button to click next or which option is the right one. The recovery speed wasn't the fastest, but that's probably the price we have to pay for excellent data recovery results and our slow hard drive.
✅ Pros:
❌ Cons:

Excellent recovery rate
Intuitive user interface
Built-in preview feature
No need to wait for the scan to finish
Part 2. What You Need to Know Disk Drill for Mac
While Disk Drill's data recovery capabilities speak for themselves, there's a lot more you should know about the software, and it doesn't hurt to start with the basics.
2.1 What Is Disk Drill?
Disk Drill is a data recovery software app from a company called CleverFiles. It was first publicly released in 2010, and it has since then established itself as one of the most popular tools of its kind.
Besides macOS, Disk Drill is also available for Windows, and the two versions share the same look and feel. The user interface has been translated into many languages, including English, Arabic, German, Spanish, French, Italian, Japanese, Korean, Polish, Russian, Swedish, Chinese, and others.
💡 Disk Drill can recover data from such popular devices as
SD cards
,
external hard drives
, and
USB flash drives
. The app runs on all Mac computers with Mac OS X 10.15 or newer (the Windows version supports Windows XP, 7, 8, 10, 11).
2.2 Main Features of Disk Drill
Disk Drill is, first and foremost, a powerful data recovery application that can be used to recover over 400 file formats from all storage devices supported by macOS, including deleted photos, text documents, various multimedia files, and more. The latest version of Disk Drill is fully compatible with M1/M2 Macs running macOS Ventura, and it supports the recovery of iOS/iPadOS 16+.
It boasts multiple powerful recovery algorithms that address different data loss scenarios, but you never have to worry about how they work because Disk Drill hides all the complexity that goes into the recovery of permanently deleted files behind its polished user interface with Dark Mode support.
Let's take a quick look at some of the main reasons why Disk Drill is so great at handling a wide variety of data loss situations:
Can recover data from NTFS, FAT, FAT32, exFAT, EXT3/EXT4, HFS, and APFS file systems.
Is able to scan and undelete data from Windows and Linux software RAID arrays.
Disk Drill 5 can mount, scan, and recover data from Virtual Hard Drives (VHD and VHDX).
Scans and recovers lost data from iPhones and iPads running iOS/iPadOS 16+.
Predicts recovery chances and displays file previews before you recover your data.
Can reconstruct and properly label many image and video formats.
Disk Drill is a true multi-platform data recovery software application in the sense that a scan session started on one platform (macOS) can be resumed on a different platform (Windows). This saves time and makes it easier to achieve the desired data recovery results.
2.3 Extra Features of Disk Drill
Besides data recovery capabilities, Disk Drill comes with several free disk tools to help you avoid data loss and take care of your storage devices:
🛡️ Data Protection: Disk Drill for Mac is bundled with data protection features called Recovery Vault and Guaranteed Recovery. The former saves metadata of deleted files to make it easier to find them, while the latter actually creates copies of protected files.
💿 macOS Installer: Disk Drill 5 allows you to create your own emergency USB flash drive with macOS to help you recover data on Macs that refuse to boot properly. You can download any version of macOS directly from within the application.
🕒 Byte-to-Byte Backup: This handy backup feature can create a full backup of any storage device to recover even from the most catastrophic cases of data loss.
✨ Clean Up: With this feature, you can get rid of unnecessary files that are taking up valuable storage space.
📄 Find Duplicates: As its name suggests, the purpose of the Duplicate Finder feature is to locate duplicate files and get rid of them in one fell swoop.
🚮 Data Shredder: If you have a highly sensitive file, then Data Shredder can help you delete it in such a way that its recovery won't be possible—not even with Disk Drill.
📝 Erase Free Space: Empty space isn't as empty as it may seem. It often hides previously deleted files, and these files can be recovered using the right data recovery software, such as Disk Drill. The Free Space Eraser feature can increase your privacy by wiping overwriting free space.
💊 S.M.A.R.T. Monitoring: This S.M.A.R.T. disk monitoring utility can help you detect a failing hard drive before it actually fails, giving you enough time to back up your data and buy a new storage device. The latest version of Disk Drill has introduced support for keyboard navigation and clipboard integration.
2.4 Does Disk Drill Really Work?
Yes, Disk Drill can really recover permanently deleted files that macOS can't see anymore. However, you shouldn't expect it to perform miracles.
What we mean by that is that even the best data recovery software application—a prestigious group that Disk Drill definitely belongs to—can't recover files that have already been overwritten by new data.
Overwriting can happen almost immediately, but it can also take days, weeks, and even months before it becomes a problem. That's why you should always begin the data recovery process as soon as possible and use the best tool available.
2.5 How Much Does Disk Drill Cost?
There are three versions of Disk Drill for Mac that you can choose from:
| | | | |
| --- | --- | --- | --- |
| | Basic | PRO | Enterprise |
| 💲 Price: | Free | $89.00 | $499.00 |
| ⌛ Recovery limit: | Preview only | Unlimited data recovery | Unlimited data recovery |
| 🔏 Activations: | N/A | 1 user, up to 3 simultaneous activations | Up to 10 users, ∞ activations |
| ⭐ Extra features: | Byte-to-byte backups, Disk Clean-up, Duplicate Finder, Data Shredder & more free data management tools built-in | Everything in Disk Drill Basic: data loss prevention, data management tools, etc. | Everything in Disk Drill PRO + Forensic data export (DFXML), Priority technical support |
You can additionally purchase lifetime upgrades ($29.00 for Disk Drill PRO and $99.00 for Disk Drill Enterprise). Educational institutions, non-profits, and government organizations can get a large discount, and the same is true for people who are upgrading from a past version of Disk Drill or moving from a competing data recovery software application.
Payments are processed through Paddle, a secure and reputable provider of end-to-end payment processing solutions, and you can pay using all major credit and debit cards, PayPal, and wire transfers.
2.6 Where Can I Get a Disk Drill PRO License?
You can get a Disk Drill PRO license directly from CleverFiles. Here's what you need to do:
Visit the following URL: https://www.cleverfiles.com/pro.html
Click the Buy now button (consider checking the Lifetime Upgrades checkbox if you would like to always use the latest version of Disk Drill).
Enter your email address and click Continue.
Specify your location.
Choose your preferred payment method and complete your order.
Once you've received your Disk Drill PRO license, you need to enter it in Disk Drill:
Launch Disk Drill.
Click the Disk Drill menu in the Menu Bar.
Select the Enter activation code option.
Enter your activation code and confirm by clicking the Activate button.
Enjoy all features Disk Drill PRO has to offer.
Part 3. What People Say About Disk Drill
When reviewing software applications, we're always interested to see what real users, who have a wealth of experience with the software in question have to say, have to say. That's why we analyzed two popular review sites: G2 and Trustpilot.
| | | |
| --- | --- | --- |
| | Trustpilot | G2 |
| Number of reviews: | 144 | 29 |
| Average rating: | 4.5 stars | 3.7 stars |
The average rating between Trustpilot and G2 reviews was a strong 4.1 stars out of 5, which more or less corresponds with our own conclusions.
What's interesting, however, is that 18 people on Trustpilot and 6 people on G2 gave Disk Drill just 1 star, which seems rather strange considering how capable and polished the application is. Let's take a closer look at what some of these people have to say:
"The user interface was confusing and the time taken to do the scan was close to 6 hours for a 300 GB E-HDD." (Sudipto B)
"What it offers sounds good if it works, which it probably does in some situations but didn't for me." (Florence R)
"Doesn't actually restore partitions as it claims to be able to do. False advertising and they won't even consider a refund. They simply say review the terms of service. Buyer beware." (User in Computer Software)
"I purchase a paid package to recover my lost files, but nothing works. Scanner play for long times, but nothing recovered." (Harjas Singh)
"They claim to have a "try before you buy" policy but that's just not true. Files that turned up during the free scan, weren't recovered after I was forced to purchase the software in order to even start the recovery process." (Flo F.)
It seems that virtually all 1-star reviews Disk Drill has received in recent years have been posted by people who had either not familiarized themselves with how it works before purchasing a license or had unrealistic expectations about what's possible to achieve using data recovery software.
Clearly, posting a 1-star review out of irrational anger caused by unrealistic expectations isn't a justified response, but that's how some people react.
Final Verdict: 4.5 stars out of 5
Disk Drill for Mac has left a positive impression on us by demonstrating its data recovery capabilities and surprising us with its polished user interface and useful extra features. As such, we wouldn't hesitate to recommend it to any individual or business that has lost important data and is looking for the best way to recover them.