It's not a pleasant experience to realize you just formatted the wrong hard drive or partition on your Mac. It may appear as if you've just wiped out a lot of valuable data, but things might not be as bad as you think. Depending on how you formatted the device, the data may still be available for recovery with specialized software. The default formatting mode only logically erases the files and folders, making it possible to get the lost data back.
Can I recover data from a formatted drive on macOS?
You can recover data from a formatted hard drive on macOS. It is essential that you stop using the hard drive after it has been formatted if you hope to recover its data. Continued use risks overwriting the data, making it impossible to recover with software.
The ability to successfully restore data from a formatted internal or external hard drive is dependent on the type of drive that was formatted and the way the process was performed. Let's look at how these factors affect your ability to recover formatted data.
Formatting differences
First, let's look at the different ways you can format a drive on a Mac and how that influences your chances of accomplishing a successful recovery. You use the macOS Disk Utility application to format disks on a Mac. During the formatting process, you can choose to use various security options to protect any sensitive data that resided on the device.
🚀 Fast formatting. The default setting when formatting a disk with Disk Utility is the Fastest option. When using this option, data is only logically deleted from the device, allowing the data to be recovered with software. No overwriting is performed during the formatting process, only the logical links used to access the data are destroyed. Drives formatted with the Fastest option can be recovered, and if you have accidentally formatted your device it is probably with this setting.
🔒 Secure formatting. Disk Utility offers secure formatting settings for cases where you want to render the information unrecoverable. You can choose to overwrite data up to seven times using the most secure setting. Additional options let you overwrite the data two or three times. Each overwrite procedure provides further protection against the data being recovered. Using anything but the Fastest setting makes it virtually impossible to recover the data even with commercial recovery software.
Device types differences
The type of drive that you have formatted can also have an impact on your ability to recover its data with software. Mechanical drives can be recovered if the data has not been overwritten. SSDs can be recovered if TRIM has not been enabled on the device.
💽 Formatted internal/system drives. Your ability to recover formatted internal drives depends on how they were formatted as described above, and the type of drive in your computer. Mechanical drives can be recovered as can SSDs that don't have TRIM enabled. One problem you may face is that internal drives are often formatted as part of an operating system installation, such as to address serious errors with your file system start to occur or to perform a clean install to refresh your machine. When you reinstall your OS, some files will be overwritten, reducing the chances for a full recovery of the device's data.
🔌 Formatted external drives. External mechanical drives that have been logically formatted can be recovered with software. If they are SSDs, they need to have been formatted with TRIM disabled if you want to recover their data. With TRIM disabled, if you act quickly and don't use the device much after formatting it, chances are good that you can recover the majority of your data. Once again, the key is to avoid overwriting the information so is can be recovered by software.
⚙️ Formatted SSD drives. Solid-state drives (SSDs) can also have data recovered after formatting by recovery software if the device does not have TRIM enabled. You should take an additional step before attempting this type of recovery. Make a byte-level backup of the SSD and use the backup media to perform the recovery. This saves additional wear and tear on the SSD as the recovery software scans and recovers data and is a valid step to take with a hard drive recovery as well.
How to Recover Files From a Hard Drive That Has Been Formatted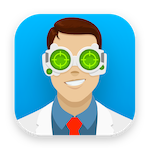 Disk Drill provides a user-friendly and secure method of recovering data from an accidentally formatted hard drive. With just a few clicks you can start scanning and recovering data you thought was lost. The tool supports the recovery of virtually any type of disk-based storage device including internal and external hard drives. Its advanced scanning algorithms recover as much data as possible and flexible filtering lets you quickly find the files that interest you. The tool can successfully recover hundreds of file formats including the image and video files often stored on external hard drives.
Disk Drill has
superior recovery capabilities
. It fully supports modern Mac devices and all major file systems that you might use on your hard drive. Disk Drill can locate lost partitions and rebuild a damaged HFS+ directory. It can handle just about any type of data loss situation that you face after formatting a disk.
In addition to its excellent data recovery performance, Disk Drill includes free tools that help you protect and manage your valuable data. The app enables you to make byte-level backups, find duplicate files, erase free space, and securely shred data so it cannot be recovered.

Want to learn more about Disk Drill? Take a look at our
review
.
The following procedure demonstrates how to use Disk Drill data recovery software to restore files from a formatted hard drive.
Download and install Disk Drill for Mac You can start with the free trial version of the tool which lets you scan your hard drive to determine which files the tool can recover.
Connect the device to your Mac if attempting recovery on an external hard drive.
Launch Disk Drill and select the formatted hard drive or partition from the app's main window.
Click the Search for lost data button to initiate the scanning process.
Preview the recoverable files that Disk Drill finds to determine which ones you want to recover. Files are categorized into Pictures, Videos, Audio, Documents, and Archives folders for easy identification.
Select the files you want to restore and click Recover.
Provide a safe location for storing the recovered data that is not on the original device.
Click OK to complete the hard drive data recovery process.
Are there any specific challenges when recovering formatted external disks?
The main issue users can run into when trying to recover a formatted external hard drive is making sure your Mac recognizes the device. Before launching Disk Drill to start a recovery, you need to connect the external drive to your computer. You should open a Finder window to verify the computer sees the drive.
If the device is not showing up in Finder, it may be that the cable is not firmly connected, either to the drive or the computer. Disconnect and reconnect the cable and attach it to the computer again.
You should be able to access the external drive at this point. If not, you may have a damaged cable. Try using a different connector to attach the external drive to your Mac.
Once the device is connected to your Mac and the operating system can access the drive, the recovery steps are essentially the same as for an internal drive. Select the external hard drive from the list of available devices presented by Disk Drill and click the Search for lost data button to start scanning the drive for recoverable files and folders.
Frequently Asked Questions