Is your Mac getting considerably slower? Do you experience frequent crashes that sometimes lead to data loss? Did one of your storage devices just stop functioning altogether? Problems like these usually indicate that something is wrong with your hard drive.
Fortunately, these situations are often easily solved with the help of Mac disk repair software. We've tested plenty of options on the market and boiled our list down to the top 5. With them, your Mac will be up and running like brand new in no time.
What Can Mac Disk Repair Software Do?
Many people turn to these tools with different ideas in their minds. You can use them to fix bad sectors, kickstart corrupted disks, clear registry to improve performance, diagnose hardware failure, extract data to another storage device, etc.
Many things can go wrong with your drives, and the best Mac disk utilities will have tools that can tackle all of these problems. However, since this is a complex topic, some apps on this list will excel in some areas and fall a bit short in others.
Why Do I Need Disk Utilities?
On average, 2% of hard drives will experience a failure every year. If you haven't backed up your data, this can easily result in a huge loss. In most cases, it's not a question if this will happen but when. However, regularly using disk repair software on Mac will prolong the life of your HDDs and SSDs, while also improving their performance.
What Disk Repair Features Should You Consider?
Before spending your money, you should make sure that your software has most, if not all of these features.
🖥️ Support for Your Mac: Since Apple comes with a new OS every year, it can be a bit tricky to find software that works for older versions. Most of the utilities on this list will work on many operating systems, starting from Yosemite. They also support every important file system, such as HFS, FAT, NTFS, and EXT3.
📊 S.M.A.R.T. Monitoring: This tool provides you with an accurate report of your disk health and its problems. Most importantly, S.M.A.R.T. Monitoring will notify you if your HDD or SSD is about to experience failure. This gives you enough time to replace your failing drive and protect yourself from data loss.
🗜️ HDD Management: Best Mac disk utilities have at least one cleanup tool that focuses on speeding up your machine. This is usually done by repairing directories and fixing bad file paths.
🔧 Remapping & Repairing Bad Sectors: Your drives consist of independent clusters of storage space called sectors. If some of them are defective, you will be unable to open them or write new data. If this problem is caused by software, good disk repair tools will present you with a solution.
🛠️ Fixing Corrupted Drives: This feature will work wonders if you can't even access your HDD or SSD.
🔎 Data Recovery: Files can't always be restored, but you will have the best chances if you act swiftly. Otherwise, you risk that your files get overwritten, which means losing them forever. That's why we recommend that you get a disk repair utility that works as recovery software as well.
💲 Affordable Price: Not all apps are built equal, and some of them are simply not worth your time and money. We've included both free and paid software, and some premium versions come with a trial so you can evaluate the product without any commitment.
| Software Solution | Main strength |
| --- | --- |
| Disk Drill | Best overall |
| Drive Genius | Best maintenance solution |
| DiskWarrior 5 | Best bad sector repair solution |
| OnyX | Best free option |
| Data Rescue | Decent recovery results |
Top 5 Best Mac Disk Repair Software
To start, we have one of the most popular data recovery solutions. Disk Drill is quick, reliable, and intuitive, so you won't need any technical skills to solve your problems. If worst comes to worst, you can use it to retrieve over 200 file formats with numerous scanning methods.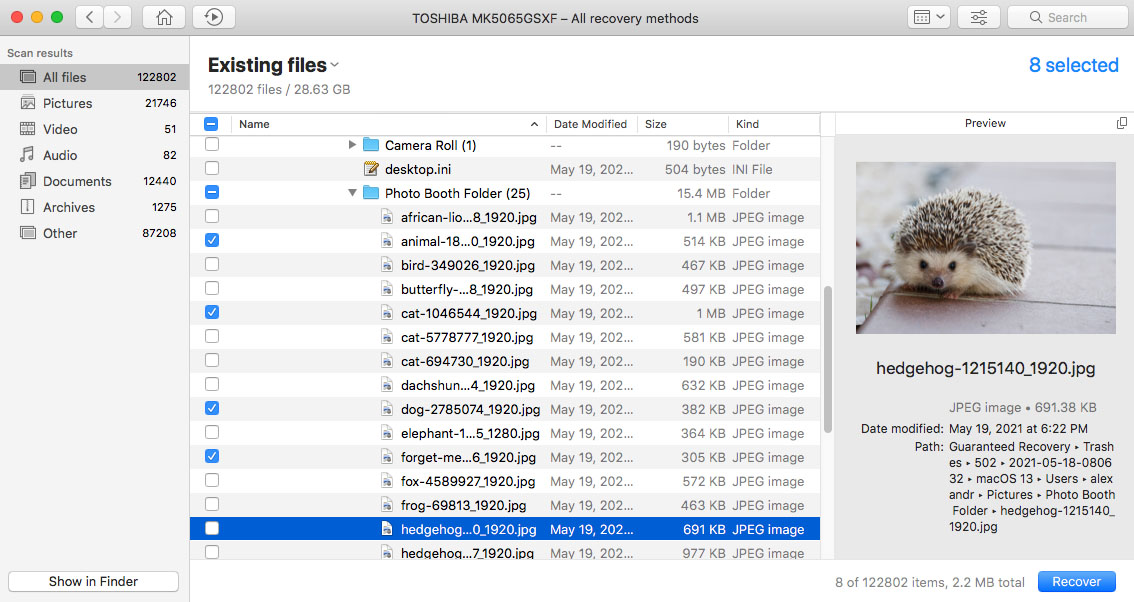 While it focuses mostly on data recovery, Disk Drill has additional tools that will help you repair your drive. One of them is Disk Health, a S.M.A.R.T. monitoring system that scans your Mac for potential drive issues. For cleaning and speeding up your PC, there's Duplicate Finder and Mac Cleanup. If your finder is unable to read HFS volumes, you can use the Rebuild HFS Catalog to fix this problem. MacOS Installer will be useful if your hard drive errors are caused by problems in the operating system.
One of the best ways to protect your files is by creating periodic backups. Disk Drill has its Time Machine module that will be convenient if Mac's built-in tool isn't working for you. The app also lets you easily manage bad sectors, which could otherwise completely stop or significantly slow down your scans. Lastly, Disk Drill runs perfectly on Macs that use modern M1 and T2 silicone chips. This is a feature that no other macOS data recovery tool has as of the time of writing of this article.
In case you can't boot your Mac, Disk Drill can also be run in recovery mode. To do this, restart your computer and hold Command + R until the Apple logo pops up. Log into your account and go to Utilities > Terminal.
Once inside, write this command: "sh <(curl http://www.cleverfiles.com/bootmode/boot.xml)" to trigger the download and installation of Disk Drill. The app will start automatically, so just follow the restoration process.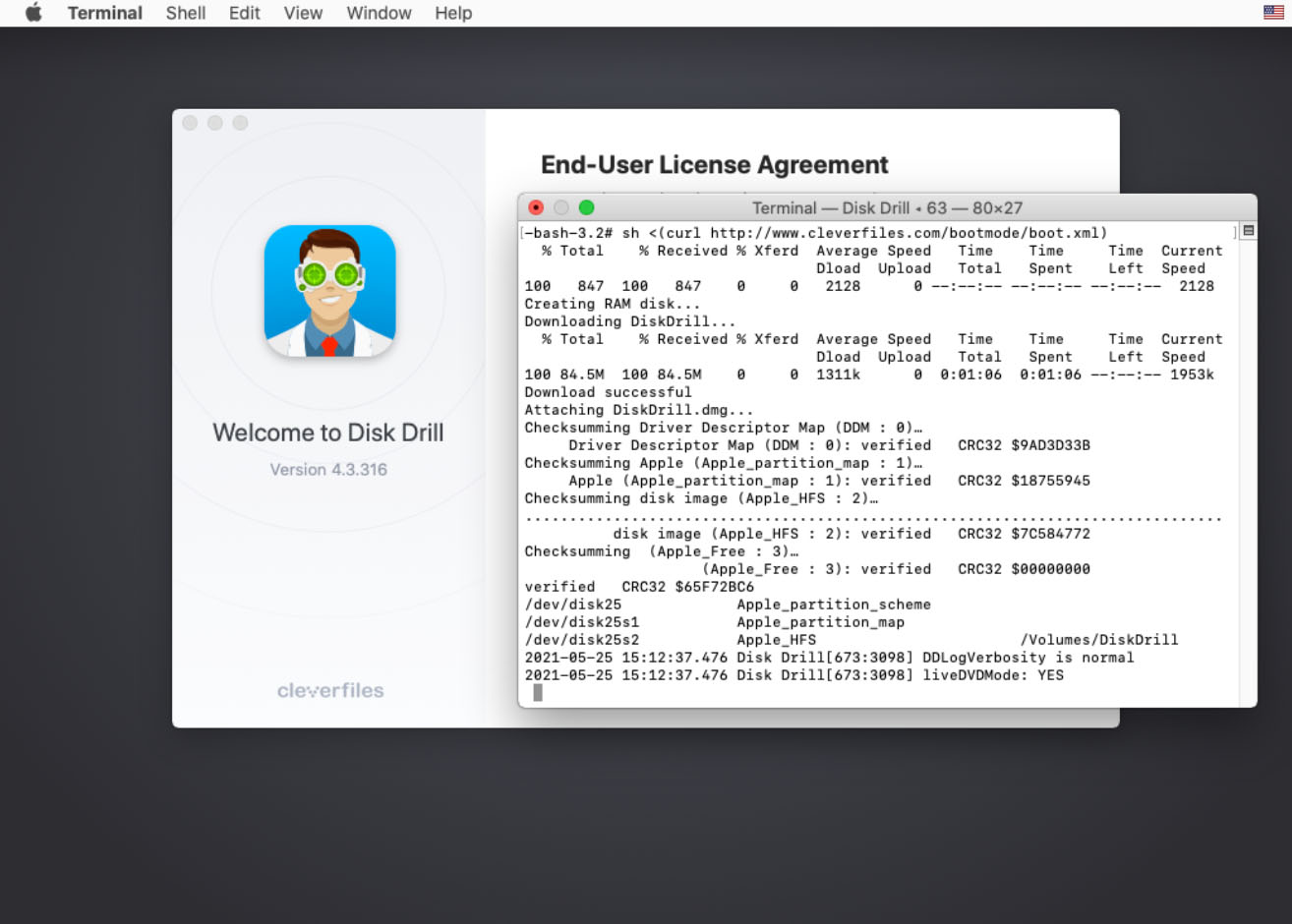 All in all, Disk Drill packs a lot of functionality while remaining fairly easy to use, which isn't easy to accomplish. The app works on all new Mac operating systems, starting from OS X 10.5.
💡 Key Features:
S.M.A.R.T. monitoring
Backup Files – Recovery Vault and Guaranteed Recovery work together to protect your data.
1-click Recovery – Restore lost files via Quick and Deep scan
✅ Pros:
User-friendly interface
Tons of disk protection tools
Can scan new M1 and T2 chips
Great recovery capabilities
❌ Cons:
Requires that you get a full version
No malware removal
💲 Pricing Plans:
Free trial version: $0
Disk Drill Pro: $89 (+ $29 for unlimited updates)
Disk Drill Enterprise: $499
Proper maintenance is the key to preventing hard disk issues, and you will hardly find an app more equipped for the job than Drive Genius. It consists of 18 disk repair tools, which are placed in 3 categories: Speed Up, Clean Up, and Protect.
Instant DrivePulse is one of its most useful features. It will scan your drives looking for hardware problems, like a bad drive or damaged cable, and quickly report on the findings. Consistency Check, Find Duplicates, and Rebuild, will, in turn, solve most software caused errors. If your Mac is still sluggish, you can use Speed and Defragment to improve its performance.
Drive Genius is geared more towards professionals, so some users may be repelled by the sheer amount of features. However, if you get the hang of it, it can easily become indispensable when it comes to disk repair.
Drive Genius works on almost all operating systems, starting from OS X 10.11. Since there are more versions of the product it's best to test them with a free trial before committing.
💡 Key Features:
Instant DrivePulse – Scans disks for hardware problems
Malware Scan
Speed & Defragment – Improve the performance of targeted hard disk
Consistency Check – Search for folder and file errors
✅ Pros:
Packed with disk repair tools
Great value for the price
❌ Cons:
Somewhat confusing interface
Doesn't offer data recovery
💲 Pricing Plans:
Standard Subscription: $79 per year (1 PC)
Professional Subscription: $299 per year (10 PCs)
Perpetual license: $99 per use (1 PC)
DiskWarrior 5 is a great option for fixing slow HDDs and SSDs, as it quickly locates and repairs bad sectors caused by software issues. It's also useful against the Invalid node structure error that happens if your disks are heavily corrupted.
Disk Warrior also specializes in optimizing directories, which can have a significant impact on the system performance. This is done with a unique, 1-click data restoration process. First, it scans your storage devices to locate the files that have been damaged. Then, it creates a healthy copy that is compared to the original to ensure high reproduction accuracy.
Overall, this is a powerful app that can reliably fix directory errors that might lead to poor performance and frequent system crashes. If your drive is beyond repair, you can still use DiskWarrior to quickly transfer all of the important files. These features make it one of the best disk repair software for Mac.
DiskWarrior works on a variety of operating systems, starting from Mac OS X 5 (Leopard). However, there is still no support for Big Sur, which is unfortunate.
💡 Key Features:
Optimize Directories – Scan and repair corrupted sectors.
SMART Technology
1-click Restoration – Create a functional copy of damaged files and directories.
File Extraction – Copy data from a faulty drive to an external storage device.
✅ Pros:
Intuitive interface
Quick file transfer to a new drive
High recovery rate
❌ Cons:
Doesn't support Big Sur
Can't rebuild APFS volumes
No free trial
💲 Pricing Plans:
One-time payment: $ 119.95
To make Macs more accessible, Apple often hides some of its advanced features which would only confuse the average user. The problem is, many of these tools can help you solve disk-related issues. This is exactly where OnyX comes in, giving you quick access to the large number of tools spread over 5 tabs.
Cleaning lets you speed up your Mac by deleting logs and system cache files.
Maintenance is all about repairing file permissions and rebuilding indexes and databases.
Automation helps you program routine tasks that will be done in the background without any interference.
Utilities is home to obscure but powerful tools that can improve the health of your drive, such as Storage Management.
Finally, the Parameter tab lets you further customize individual apps to your liking.
Although it's a bit complex, OnyX gives you a huge level of control over Mac, while also being completely free. It supports every OS starting from Jaguar (10.2), just make sure that you download the correct version.
💡 Key Features:
Quick Access – Find Mac's most important disk repair utilities in one place
Automation – Set up a series of routine tasks, like Maintenance Scripts, that are done in the background.
Maintenance – Solve file permission errors that slow down your computer.
✅ Pros:
Free
Can repair indexes and databases
Packed with advanced maintenance tools
❌ Cons:
Doesn't offer file recovery
Complex interface may repel new users
💲 Pricing Plans:
OnyX is completely free, but you can always choose to support the developer by donating.
If you just need to recover your files, you might want to consider Data Rescue. Similar to Disk Drill, it offers 2 types of scans. Quick scan is great for solving simple errors, while Deep scan will do very thorough research for lost files. Both of them can retrieve over 150 file formats. The whole process is straightforward, the only downside being that the Deep scan is pretty slow. Partition recovery is also available, although this feature is a bit confusing.
In case your hard drive has completely failed, Data Rescue 5 still has your back. Thanks to the Create Recovery Drive and Clone function, your important files will be transferred quickly and effectively to an external storage device.
While it's pretty good at what it does, Data Rescue 5 lacks repair tools. Features such as S.M.A.R.T. monitoring, directory optimization, and consistency check would make this a well-rounded program. As such, we wouldn't say this is the best disk utility for Mac.
Data Rescue 5 requires Mac OS Sierra (10.12) or a newer operating system.
💡 Key Features:
Unlimited recovery
Clone – Duplicates a failing drive onto a healthy storage
Recovery Drive – Safely transfer files and folders from the main drive
✅ Pros:
Affordable
Lightweight
User-friendly
❌ Cons:
Lacks in features
Dated interface
Scans are slow and can't be stopped
💲 Pricing Plans:
Standard license: $ 99 (one-time payment, 1 Mac)
Professional license: $ 299 (yearly subscription, unlimited use)
Parting Words
As you can see, there are a lot of different Mac disk repair software applications that can help you solve and even prevent drive errors. Although there are many options to choose from, you can hardly miss by choosing any of the apps we've mentioned above.