We've become increasingly reliant on our smartphones for capturing photos and sharing them with friends and family. Thanks to smart TVs, projecting those photos from your phone to a bigger screen has become a breeze. Luckily, you can easily Chromecast photos from iPhone to your TV using either Google Photos or a third-party app.
In this article, we'll take a look at both methods and also what to do if you can't get Chromecast to work.
Solution 1:

How to Cast Photos from iPhone Using Google Photos

The Google Photos app works just like any other photos app. It lets you store, view, and edit pictures you take with your phone. They're synced on Google Drive so you can easily access them from any device for free.

To use the Google Photos app, your smart TV doesn't have to be AirPlay 2-compatible. Most modern TVs come pre-installed with Chromecast. If not, you can buy the device separately and plug it into your TV.

Note: Before using Google Photos, Chromecast on iOS has to be set up with the Google Home app.

Once you've plugged the Chromecast in and downloaded Google Photos from the App Store, follow the steps below:
Browse through the gallery and select the picture you want to see on your TV.
Tap the Chromecast icon.
If it's your first time using Google Photos, it'll ask you to give it Local Network permissions before casting. Tap OK.
Tap your Chromecast device.
You should now be able to see your photo on your TV. Swipe left or right on your phone to change what you see on the screen. You can also play videos.
Solution 2:

How to Cast Photos from iPhone to Chromecast Using Third-Party Apps

You can also use third-party apps to cast pictures from your iPhone to your TV if you don't feel comfortable handing over your data to Google. They're a great option if you're looking for something that has more features than you'd find in Google Photos. For example, many of these third-party apps allow you to mirror your phone's entire screen.

Two of the most popular casting apps include TV Cast for Google Cast App and Photo Video Cast to Chromecast. Let's take a look at both of them in detail.
1. TV Cast for Google Cast App
After downloading the app from the App Store and setting it up, you're ready to start casting iPhone photos. Chromecast should be connected to the same Wi-Fi network as your phone.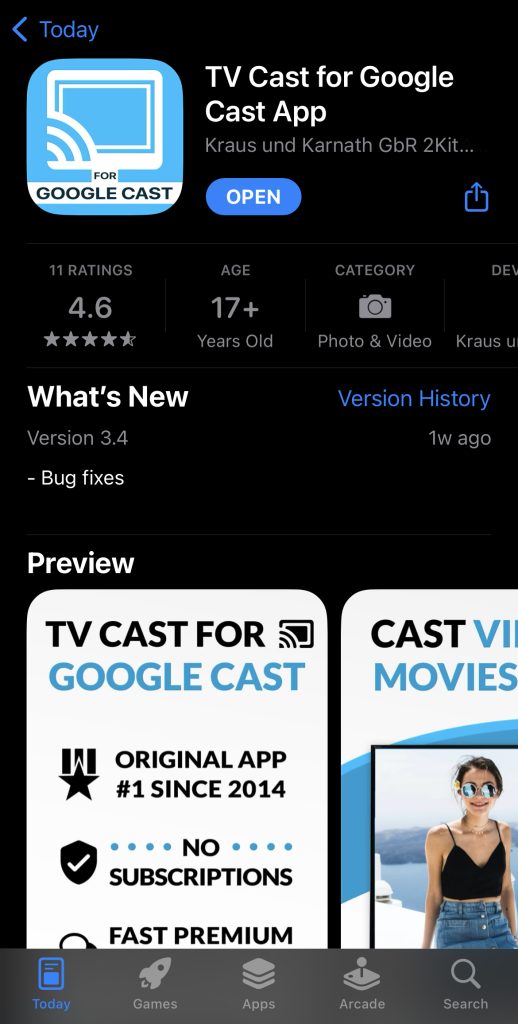 Follow these steps to cast your photos to your TV:
Tap Setup. It'll automatically detect the Chromecast device after a few minutes.
Once it's connected to your Chromecast, you'll be taken to the main screen. Tap Personal Media to cast your photos.
Give the app permission to access your photos by tapping OK.
If you're using the free version of the app, you'll only see the three most recent photos you've saved.
Tap any photo and a green border will form around it, indicating that it's currently being shown on your TV.
The free version doesn't allow you to swipe through your gallery. You have to manually select the picture on your phone to cast it on the TV.
You can also cast videos, music, and media files stored in the Files app. The app comes with a built-in web browser so you can cast videos from YouTube and other platforms as well. Just tap the Pen icon at the top and enter a URL. You can use it to cast online videos, podcasts, and more.
App Store rating: 4.6/5
2. Photo Video Cast App
Photo Video Cast to Chromecast has a simple UI that closely resembles that of the iPhone's Photos app.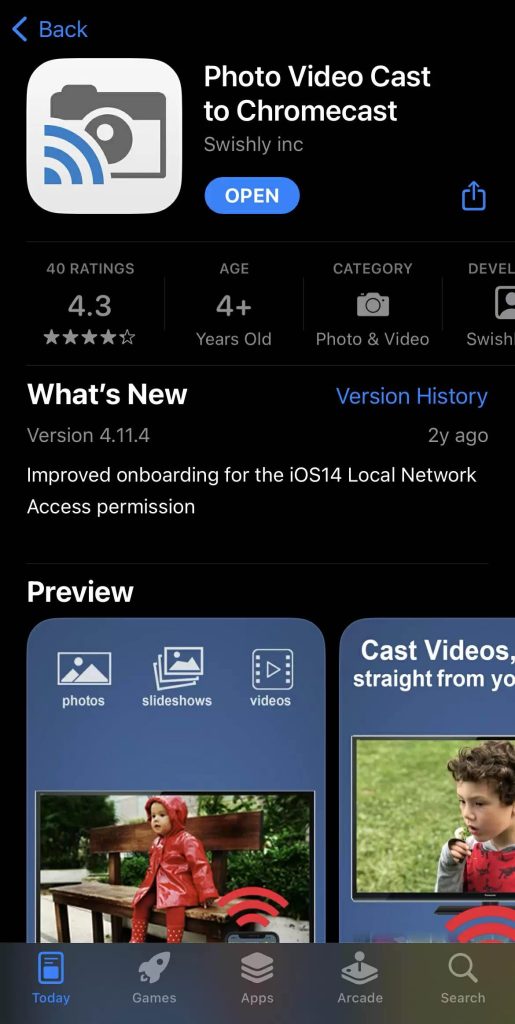 Download the app from the App Store and give it permission to access your photos. It'll automatically pair with the Chromecast device.
Follow the steps below to cast iPhone photos to Chromecast:
Tap the photo you want to see on the big screen. A Chromecast icon will appear over it to indicate it's being shown on the TV.
Using the options listed at the bottom, you can widen the picture, turn it into a "floating image", and bring the size back to normal. It also has a face detection feature but you have to upgrade to Premium to use that.
To open the slideshow settings, tap the three dots.
Select the duration, add a soundtrack if you want, and then tap the Play icon at the bottom.
To play videos, tap the Videos button at the bottom.
Tap the video you want to play and it'll show up on the TV.
While the app is excellent for photo casting, the free version's video capabilities aren't so great. The video resolution is limited to 720p and you can only watch videos in 4K by upgrading to the PRO version. On the free version, you'll see the app's watermark on the TV and the only way to get rid of it is by upgrading your plan.
The app doesn't have any other additional features since it's solely made for casting photos and videos from iPhone to TV.
App Store rating: 4.3/5
How to Cast Google Photos to TV from a Computer
To cast Google Photos from a computer, you first have to back your photos up to your Google account on your iPhone. It's a simple process that takes only a few seconds.
Tap your profile picture in the top-right corner.
Tap Turn on backup.
Choose if you want to retain the original quality of the pictures or back them up faster by having their quality reduced.
Tap Confirm.
Now you can view your photos from any device wirelessly by simply logging in to your Google account.
Let's take a look at how you can cast your Google Photos pictures using your computer:
Open the Google Chrome browser and go to photos.google.com.
Sign in with the same Google account you use on your iPhone.
Open the picture you want to cast to your smart TV.
Click on the three dots in the top-right corner.
In the drop-down menu, click on Cast.
Click on your Chromecast device to start casting the photo on the TV.
Note: This method doesn't work on Safari.
Can't Get Chromecast to Work? Here's What You Can Do
If you're having trouble casting photos or videos from your iPhone to your TV while using Chromecast, here are some things you can do:
💡 Check if your iPhone and Chromecast are connected to the same Wi-Fi connection. Your Chromecast device won't show up if your iPhone is on a different network.
💡 If the Google Home app can't locate your Chromecast device or is taking too long, turn your iPhone's Bluetooth off and then enable it again after a few seconds. Restart the app and you should be able to see your Chromecast.
💡 If you still can't see your Chromecast device, reset it by pressing and holding the button on it until the light turns white. If your TV has built-in Chromecast functionality, then reset or force close the Chromecast app from the settings.
💡 If photos or videos take too long to show on the TV screen, tap the Chromecast icon on your iPhone and tap Disconnect. Wait for a few seconds and then cast again.
💡 If you have changed your Wi-Fi connection, then download the Google Home app and set up Chromecast again.
Conclusion
Casting photos from your iPhone to your TV using Google Photos or third-party apps is a convenient way to share them with family and friends on a bigger screen. You can back up your photos on Google Photos to quickly access them from any device. It's free and allows you to cast unlimited photos and videos from your iPhone to your TV. Third-party apps are also useful and provide additional features like screen mirroring though you usually have to pay an extra fee to use them. They all have their own pros and cons.
After trying both methods, we've discovered that the best way to view iPhone photos on Chromecast enabled TVs is to use a third-party app.
FAQ
You can cast photos from an Android phone to a TV using the Google Photos app. Download it from the
Google Play Store
. Connect the Chromecast device and your phone to the same Wi-Fi network and sign in with your Google account on the Google Photos app. Choose a photo and tap the Cast icon to start seeing it on your TV.
To cast photos from an iPad to a TV, download
Google Photos
from the App Store. Connect the iPad and the Chromecast device to the same Wi-Fi network and then tap the Cast icon in the top-right corner. You can follow the same procedure on an iPhone.
No, AirPlay isn't compatible with Chromecast. You'd have to use third-party apps for casting, such as the ones we've reviewed in this article or any other app that suits your needs.