You can buy the most expensive WiFi router in the world, but you will never use your internet connection to its full potential unless you know how to find the best WiFi channel. That's especially true if you live anywhere near other people and their WiFi-enabled devices.
If you're lucky, the only consequences of using a sub-optimal WiFi channel may be occasional slowdowns and limited WiFi range. But if luck isn't on your side, you might experience frequent connection drops and the inability to perform basic tasks, such as streaming online video or playing multiplayer games.
Fortunately, it doesn't take much effort to find the best channel for WiFi, and we provide a detailed walkthrough of the entire process in this article.
What Channel Is the Best for WiFi?
All WiFi routers transmit data packets within the radio frequency (RF) spectrum. To ensure interoperability and prevent the RF spectrum from becoming chaotic, the 802.11 standard provides several distinct RF ranges that WiFi equipment manufacturers can use. Most consumer-grade WiFi routers available today, however, use only two ranges:
2.4 GHz (2,400 to 2,483.5 MHz)
5 GHz (5,250 to 5,350 MHz)
Despite being relatively close neighbors in the RF spectrum, the 2.4 GHz and 5 GHz bands, as they are commonly referred to, have different characteristics. The 2.4 GHz band transmits data at slower speeds but provides coverage at a longer range, while the 5 GHz band transmits data at faster speeds but provides less coverage.
In practice, many higher-end routers these days use both the 2.4 GHz and 5 GHz bands simultaneously to let users enjoy the best from both worlds. This somewhat complicates WiFi channel planning because each of the two bands is divided into different channels.
2.4 GHz Channel Planning
In North America, the 2.4 GHz band is divided into 11 channels. The number of available channels grows to 13 in Europe, and people in Japan can choose between up to 14 distinct channels, but only under certain circumstances.
The problem is that 2.4 GHz channels are spaced only 5 MHz apart from each other despite typically being 22 MHz wide. As a result, adjacent-channel interference occurs when two WiFi routers are configured to use two different but neighboring channels, such as Channel 1 and Channel 2.
The only three WiFi channels in the 2.4 GHz band that don't suffer from adjacent-channel interference are channels 1, 6, and 11 (+ 14 in Japan). Still, even these so-called non-overlapping channels are susceptible to co-channel interference, which occurs when two or more routers use the same exact channel.
To find the best channel for WiFi in the 2.4 GHz band, you need to use a WiFi channel scanner to determine which non-overlapping channel is used the least.
5 GHz Channel Planning
If WiFi channel planning already seems complicated to you (it isn't, really), then we have good news: manual 5 GHz channel planning is seldom necessary.
To start with, the 5 GHz band is far less crowded than the 2.4 GHz band, because 5 GHz signals don't penetrate solid obstacles, such as walls and furniture, well. While you would probably be able to detect a 5 GHz network set up by your neighbor using a WiFi channel scanner, it would cause only minor interference.
More importantly, however, the 5 GHz band is divided into far more channels than the 2.4 GHz band (the exact number of available channels depends on where you live). Running out of available channels isn't something that commonly happens.
Last but not least, modern 5 GHz routers know how to determine the best WiFi channel in the band, so achieving any measurable improvement in signal strength or range by manually tweaking WiFi channel settings is considerably more difficult.
That said, it can still be useful to use a WiFi channel scanner to study the 5 GHz band and see how many routers nearby are using it.
How to Scan for Channels?
As a Mac user, you can find the best WiFi channel using the built-in Wireless Diagnostics tool or a free third-party WiFi channel scanner app like NetSpot.
Wireless Diagnostics Tool
The biggest advantage of the built-in Wireless Diagnostics tool is that it's already installed on your Mac. As long as you're fine with collecting only basic information, about WiFi networks in your area and their channel configuration, you might not need anything else.
To find the best WiFi channel using the Wireless Diagnostics tool:
Press the Option key on your keyboard and click the WiFi icon in the Menu bar.
Select the Open Wireless Diagnostics option.
Instead of clicking Continue, open the Window menu and select Scan.
You should see a list of all available WiFi networks and their configuration. In a panel located on the left side of the Scan window, you can see a summary table with the best 2.4 GHz and 5 GHz channels.
NetSpot WiFi Channel Scanner
NetSpot WiFi channel scanner is a popular third-party WiFi channel scanner that can tell you far more information about WiFi networks than the Wireless Diagnostics tool can. What's more, it can present the collected information as easy-to-understand graphs and tables, giving you all the information you may possibly need to eliminate issues with signal interference.
To find the best WiFi channel using NetSpot WiFi channel scanner:
Download and install the free version of NetSpot.
Launch the app.
Use the Discover mode to see a comprehensive summary of all available networks, including their band and channel configuration.
The summary table is fully interactive, which means that you can sort the collected data by clicking on the headings of individual data columns. That way, the strongest networks can be at the very top of the summary table, and networks that use the same channels can be grouped together.
Located in the bottom-left corner of the main window is a button labeled Details. By clicking on this button, you can display real-time graphs of selected networks that show everything from their signal & noise levels to 2.4 GHz and 5 GHz channel distribution.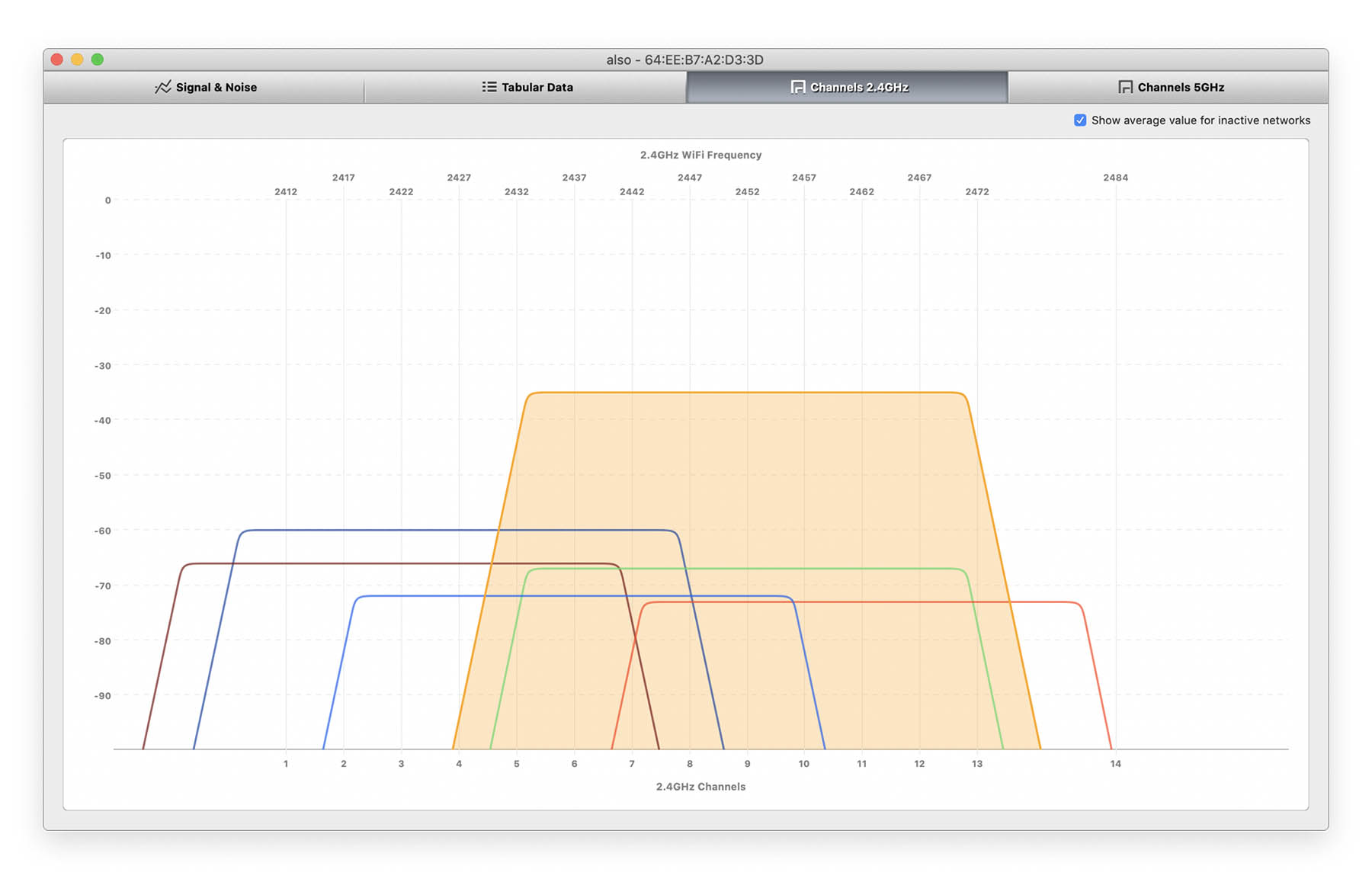 In addition to the Discover mode, NetSpot also has a dedicated mode for performing WiFi site surveys, called Survey. This mode can help you understand how the WiFi signals broadcasted by a single router cover a specific area, such as your house or office. NetSpot automatically transforms the collected data into interactive color-coded heatmaps that can be understood at a glance.
To perform a WiFi site survey (available in Home, Pro, and Enterprise) using NetSpot WiFi channel scanner:
Download and install the free version of NetSpot.
Launch the app.
Click the Survey button at the top.
Click Start a new survey.
Enter the required information about your survey project and provide a map of the surveyed area. If you don't have one at hand, then NetSpot can help you create it.
Select the network you want to survey.
Complete the survey by methodically moving and scanning until you have covered the whole area of the map.
Click the Stop Scan button and view the heatmap visualizations.
How to Change Your Router's WiFi Channel
Once you've found the best channel for your WiFi network, the only thing remaining is to configure your router to use it. To do that, you need to log in to your router's admin interface and change the relevant settings. It's best if the computer you're using is physically connected to the router with an Ethernet cable, but changing the channel over WiFi should also work. Here's what you need to do:
Enter your router's IP address in the URL bar of your favorite web browser. The IP address should be printed on a sticker located on the bottom of the router.
Log in with admin credentials. Many routers use "admin/admin" as the default login name and password combination. If that doesn't work, consult the manual that came with your router.
Navigate to WiFi channel settings. All routers are different, so we can't provide you with specific instructions here.
Change the WiFi channel to the best channel for WiFi-based on your earlier research.
Save the new settings and wait for your WiFi router to restart.
Your router should restart in a minute or two, and all devices connected to it should automatically regain access to the internet. You can then use the WiFi Diagnostics tool or NetSpot WiFi channel scanner to verify that the new settings have been applied correctly.
Summary
If your goal is to use your internet connection to its maximum potential, you need to know how to find the best channel for WiFi in both the 2.4 GHz and 5 GHz bands. As we've described in this article, a capable WiFi channel scanner app like NetSpot can make this a matter of a few simple clicks, and you certainly don't have to be an expert to put the gathered WiFi channel information to good use.