Most (if not all) of you reading this have been in a situation where you either accidentally or intentionally deleted folders on your Mac and found yourself unable to get them back. We guess that you didn't have a "fallback plan" in place, so you couldn't act fast enough and save your files from becoming overwritten.
Regardless of if you're experiencing another data loss crisis right now or are just worried about the possibility of encountering one in the future, you can fall back on the five data recovery methods described below and use them to recover deleted folders that seem to be permanently lost.
Most Common macOS Folder Loss Scenarios
Let's go over some of the most common macOS folder loss scenarios to help you better understand how to recover from them.
😯 Accidental deletion. Accidentally deleting your folders is no laughing matter! Sometimes you're swamped with work and just need to clear up some disk space, or maybe you weren't paying close enough attention and accidentally deleted something important. Regardless of how it happened, accidentally deleting your folders is a real thing. It's silly to think of, but it happens a lot more than one might expect. Fortunately for you, macOS doesn't destroy deleted folders right away—it just moves them to Trash.
🖊️ Replacement/Overwriting. Replacing and overwriting files can also happen by accident, or even on purpose. When you aren't careful enough to rename the new file or folder, you're going to be overwriting something that was previously saved on your disk drive. This means that the file you just overwrote is gone for an eternity, right? That certainly may be the case if you haven't backed anything up yourself, or set up Time Machine. But if you have, the recovery process is straightforward!
🚫 Inability to Locate. Sometimes it's just a matter of locating the files and folders, which is much easier said than done in many instances. For the most part, you can just search your entire computer and try to find the files that way, but what if they're tucked away in the "hidden folders" of your Mac? If you're unable to locate your deleted folder/files, no need to fear. Not only will these methods be of use to you, but Disk Drive will have you covered if (or when) all else fails.
The Main Types of Folders in macOS
⚙️ System. This is where all of the most important files associated with your macOS are located, so you likely don't want to accidentally delete anything from here. It includes all of the settings and files needed to run programs on your Mac, and will likely feature plenty of folders that you shouldn't be messing with unless you absolutely know what you're doing. If you ever manage to accidentally delete files from the System folder, odds are you're in for a wild ride. Thankfully, if you do so and your computer is still intact, you can quickly revert those changes with ease (under the right circumstances).
👤 User. The User folder is where you'll find all of the different users available on your Mac device, as well as the documents associated with them. Each user has a specific portion of the disk drive dedicated to them, meaning you have to take note of that when searching for deleted files. If you're trying to locate deleted files from "User1" and sign into the "Guest" profile, you'll lack the access required to look at the documents from User1.
🕹️ Applications. As the name of this folder suggests, this is where your applications reside. In fact, installing a new application manually is as easy as moving the binary file to the Applications folder. Likewise, you can delete an installed application just by moving it to Trash. All applications in this folder are automatically backed up by Time Machine, so their loss isn't nearly as catastrophic as it may seem at first.
📚 Library. The Library folder is where you can find files that are shared by all installed applications, such as fonts and other items. While it may be tempting to do so, especially if you're a former Windows user, you should never store your personal files in the Library folder.
How to Restore Deleted Folders on Mac
Let's explore five methods that can help you restore deleted folders on Mac, starting with the one you should always try first.
Method #1

. Trash Bin

Checking the trash bin is your first obvious option, as anything that you've deleted will be immediately available there. Most of the time, your Mac will be set up to automatically send deleted files to the Trash, so you don't have to search high and low for them.

By using "Control + Left-Click" on the deleted file/folder, you can select the "Put Back" option to have it sent to the original location. At that point, the file will be restored, and you can find it where you typically would!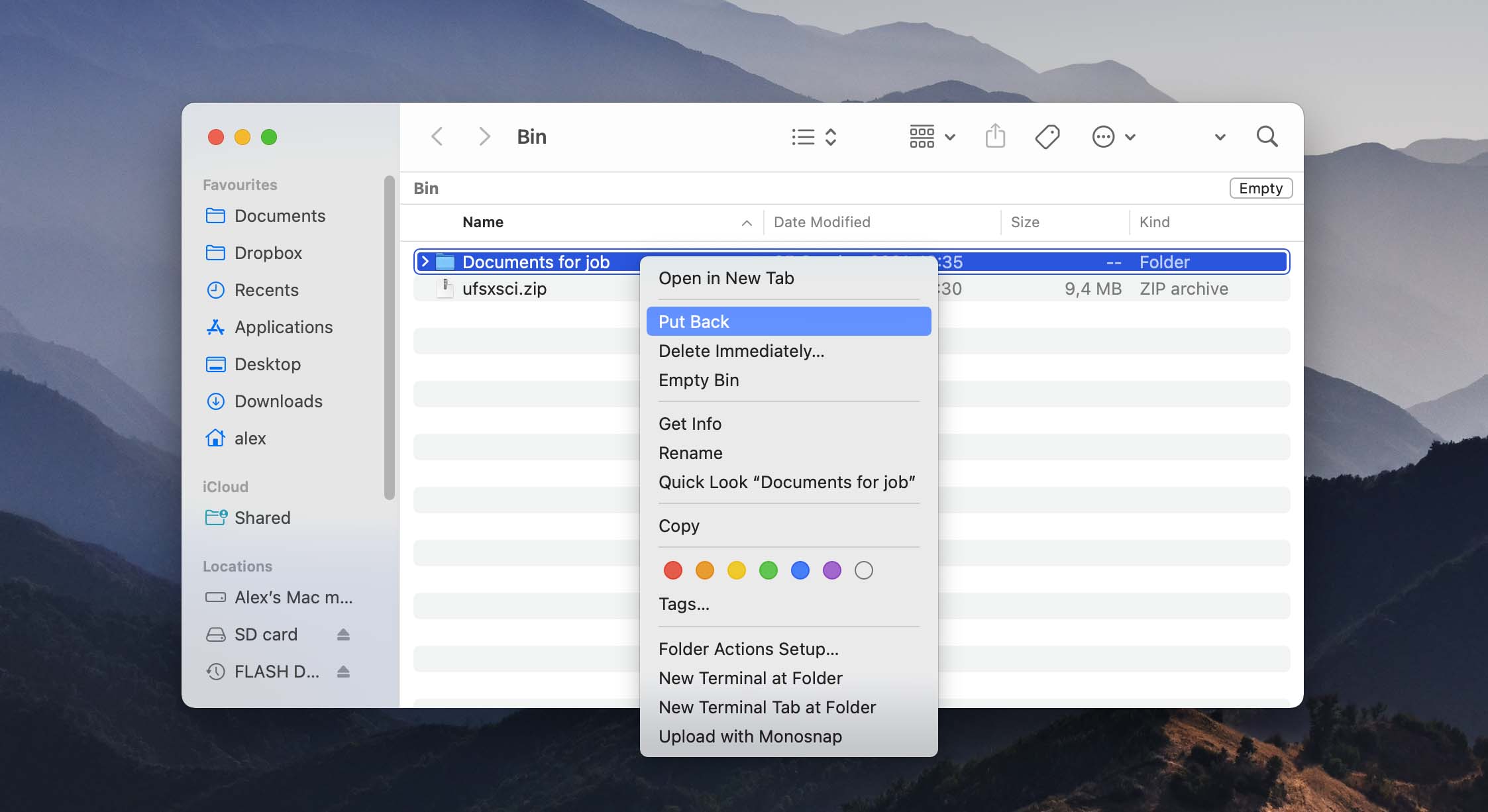 Method #2

. Data Recovery Software

Using data recovery software like Disk Drill is the easiest approach for most people, as it doesn't require any sort of technical knowledge. Disk Drill is relatively simple to use, as you basically select the disk drives you would like to scan for deleted folders and let the program work things out. Disk Drill isn't the only data recovery software available for Mac, but it's one that is highly recommended and rated!

It saves plenty of time, and potentially money if you're trying to restore sensitive or work-related files/folders. The best way to recover deleted folders on MacBook is Disk Drill or any data recovery software for that matter, and that opinion comes from personal experience.

Hint: Stop using your Mac or Macbook as soon as you discover data loss to avoid overwriting.

To recover permanently deleted folders on Mac with Disk Drill:
Download the Disk Drill application from CleverFiles.
Open up Disk Drill and select which disk drive you'd like to search for deleted folders.
Hit the blue "Search for lost data" button, and Disk Drill will begin to scan for lost folders.
Check the folders that Disk Drill has found. If the files they contain can be previewed, they can be fully recovered.
Restore your deleted folders to an external hard drive or USB to avoid overwriting them in the process.
Method #3

. Time Machine

Time Machine is an especially useful piece of software provided to us in macOS, as it will constantly back up your disk drive to ensure you're able to revert any unwanted changes. If you want a certified reliable way to retrieve deleted files and folders, Time Machine is tough to beat.

Using Time Machine, you can revert deleted system folders and even application libraries back to their original state, saving you the time and effort that comes with losing them entirely. With that being said, you have to make sure you're creating backups in the first place.

If you haven't created a backup beforehand this process isn't for you, but if you've got a verified Time Machine backup to use, you should be able to recover your deleted files/folders back to normal in a matter of minutes.
Make sure your Time Machine backup volume or drive is accessible.
Open the folder that contains your lost files or folders (for example, if you're trying to recover a folder from your Downloads, you've got to open up Downloads in the "Finder".
Press Command + Spacebar to bring up Spotlight, type in "time machine", and press Return.
Using the timeline found on the right side of your screen, locate the folder that you're looking to recover.
Select the lost folder and choose the "Restore" option.
Voila! You've just restored the folder you thought was gone forever, all because you were smart enough to create backups. Remember, you need to have Time Machine configured on the internal drive for it to work properly. Without the proper Time Machine settings, this method will not work.
Method #4

. Backups

Creating a generic copy of your important files and folders to store on a separate HDD or folder is always a smart idea. It's quite simple to create a copy of anything on Mac, as all you've got to do is select it with "Control + Left-Click."

From here, you can select the "Copy" option and have a complete clone of the folder and files located within. Larger folders will take longer to create, but you can take all of these "backups" and store them however you feel fit.
There are also many cloud-based backup services (like Dropbox and Google Drive) that you can use to store and organize all of your backed up files. You simply sign up for one of these cloud-based services, then drag and drop the desired files into your "cloud drive."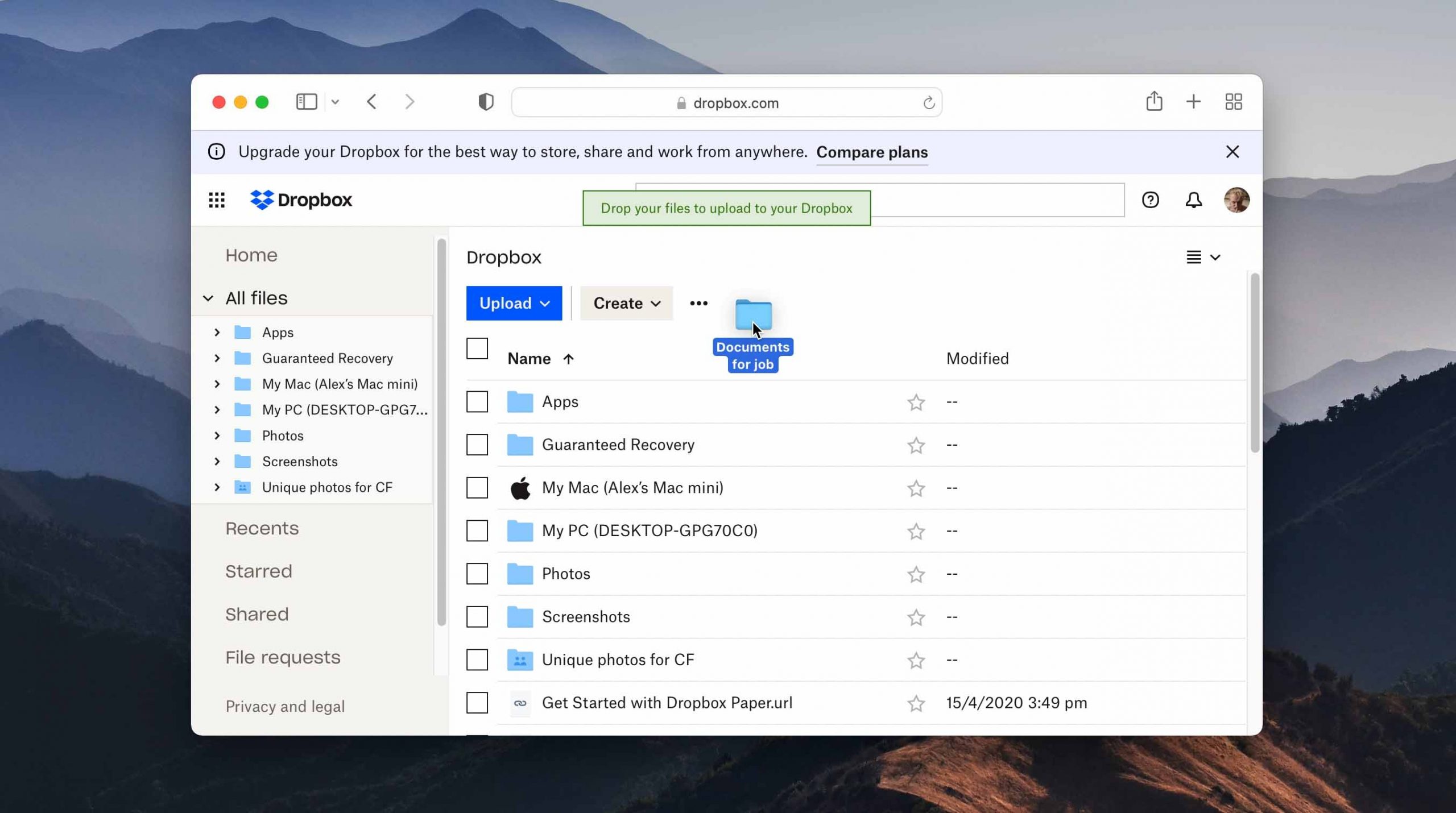 Method #5

. Professional Data Recovery Service

Just because you can recover lost folders using readily available native and third-party data recovery solutions doesn't mean you have to. If you're fine with spending some money to get your data back, you can hire a professional data recovery service to recover your data for you. The possess is simple:
Select a professional data recovery service with a high recovery success rate and initiate your work order.
Prepare the storage device on which the deleted folder was located for shipping and send it to the provided shipping address.
Wait until the data recovery services gets back to you with a price quote and approve it.
Wait some more for the recovered data + the original storage device to return to you.
Honorable Mentions
It probably won't surprise you that the five above-described methods are not the only solutions available. The following methods may not be as effective or universally applicable, but they're good to know regardless.
Undo Delete
This is a command that has saved my butt on more than one occasion, and it will likely do the same for you. If you ever catch yourself deleting something right away, you can always use "Command + Z" to undo the most recent action.
Any edits, deletions, or anything else that you made unintentionally will seem as if they never happened. It's almost as if it were magic! When you're editing a document and accidentally delete something, this will be a command that becomes your saving grace.
Terminal
You can use the "Terminal" application to search your Trash Bin and find the files you're looking for, allowing you to avoid sifting through junk. This is also especially useful when you're trying to retrieve files from a Mac that won't boot properly!
The process is as follows:
Open the Settings app and go to Security & Privacy.
Select Full Disk Access from the left pane and add the Terminal application to the list.
Launch the Terminal application (located in /Applications/Utilities/).
Enter the command "cd .Trash" to be directed to the Trash folder.
Enter the command "ls -al ~/.Trash" to view the contents within your Trash folder.
Manual Search
Opening the Finder and searching your Mac manually is also another straightforward option. While it's not going to find any files that aren't currently present on your disk drive, it can still locate stuff that has been sent to the Trash Bin.
Open up your Find and select the "Search" option located in the top right of your explorer window. From here, you can type in whatever it is you're looking for and see if anything pops up!
Which Option Do I Think is Best to Recover Permanently Deleted Folders on Mac?
To wrap things up, it's clear that there are a few different options to choose from, with each one having a different set of benefits to offer. Most people will be able to get away with checking their Trash Bin and finding the files that they've recently deleted, but that isn't always the case. If you've deleted them a long time ago and cleared the Trash Bin since then, it will seem as if they are nowhere to be found.
The Only "For Sure" Way to Recover Deleted Folders on Mac
The only "foolproof" way to recover permanently deleted folders on a Mac is through the use of data recovery software. There are many programs to choose from, and it can seem like they all do "the same thing," but I highly recommend going with Disk Drill.
Disk Drill streamlines the entire search process and targets the files you're looking for, and uncovers files you figured were long gone.
If you don't want to worry about having trouble trying to undelete a folder on Mac, you already know what to do!