Suddenly running out of free space on your Mac? Then it's a good idea to equip your computer with a disk space analyzer. Such a tool can optimize your Mac's storage space and eliminate the need for you to manually search through the computer, desperately trying to find unwanted or junk files.
In this article, we'll show you the top eight macOS disk space analyzer apps and help you choose the one that's most suitable for your needs.
Best Free Disk Space Analyzers for Mac
After testing out quite a few disk space analyzer tools for Macs, we can say without a doubt that the ones listed below are worthy and have the right capabilities to fulfill your daily disk space analyzer tasks.
CleverFiles Cleaner landed at the top of our favorite macOS disk usage analyzers. First of all, it has a modern and clean design making it easy to use and suitable for all users regardless of their tech knowledge. Also, it took just a few seconds to scan the disk for files and build a visual data map allowing you to see how much space exactly a specific file is occupying.
Moreover, this tool can also map HDDs, USB flash drives, SD cards, and other devices connected to your computer. So even though the app is not free, it's a pretty nice deal for the price.
✅ Pros:
Clean and intuitive design
Quick scanning process
Groups the files according to their type or size
Analyzes the whole disk or separate folders
📛 Cons:
💲 Pricing Options: One-time payment of $2.99 for the lifetime license.
GrandPerspective is a Mac disk space visualizer app that can show you how disk space is used on your computer with the help of treemaps. Thanks to this method, the user can visually see which files are taking up the most space on their computer since the tool presents each file as a rectangle with a size proportional to the storage space that it is occupying.
This tool is great if you want to delete large files on your Mac. But if you want to find the unnecessary ones, it will take more time with this app since you'll have to move your mouse cursor over each rectangle to see what file it is.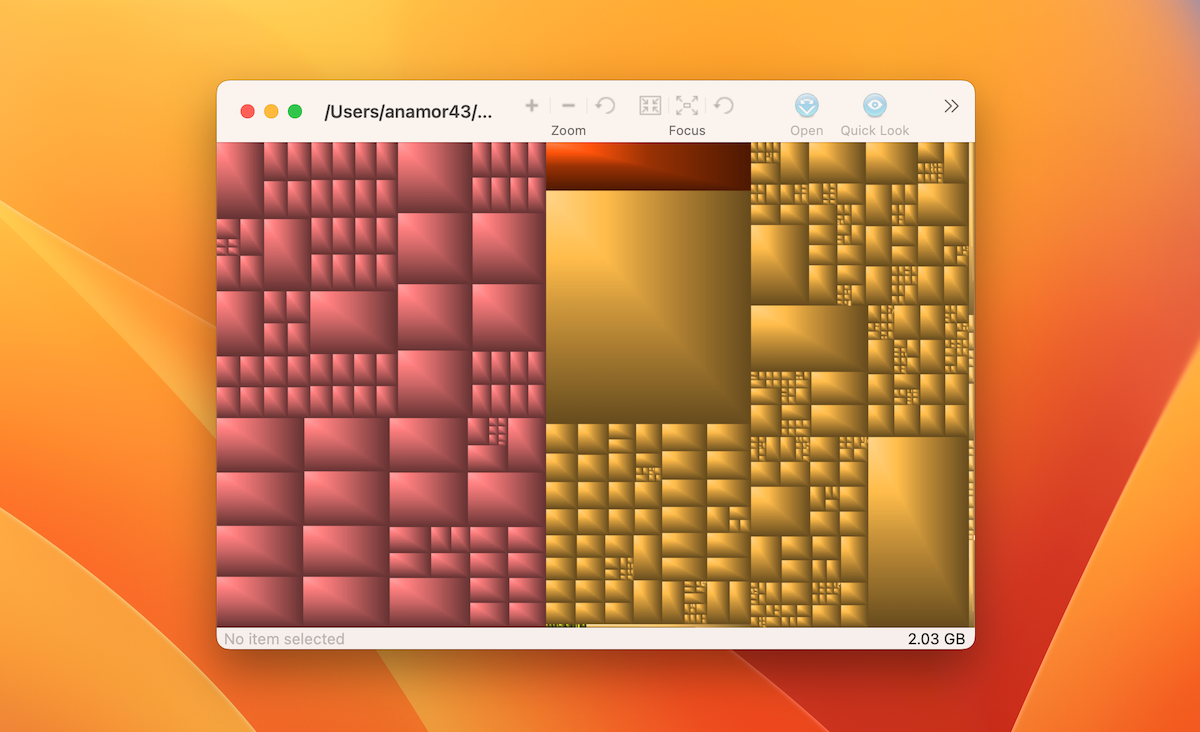 ✅ Pros:
Has a free unlimited version
Interesting way of presenting the files
Easy to spot files that occupy the most space
📛 Cons:
Slightly outdated design
Finding unnecessary files takes more time
💲 Pricing Options: Free or a one-time payment of $2.99 if you want to get the Apple Store version with automatic updates.
OmniDiskSweeper is a free Mac disk space utility application. Its simple interface and navigation system make this tool perfect for the average user. With just one click you'll be able to scan your disk, and the app will present all of your files in a list according to their size, starting with the largest one.
The tool lets you easily navigate through your folders, as well as view any of the files directly through the app and instantly erase the unnecessary ones.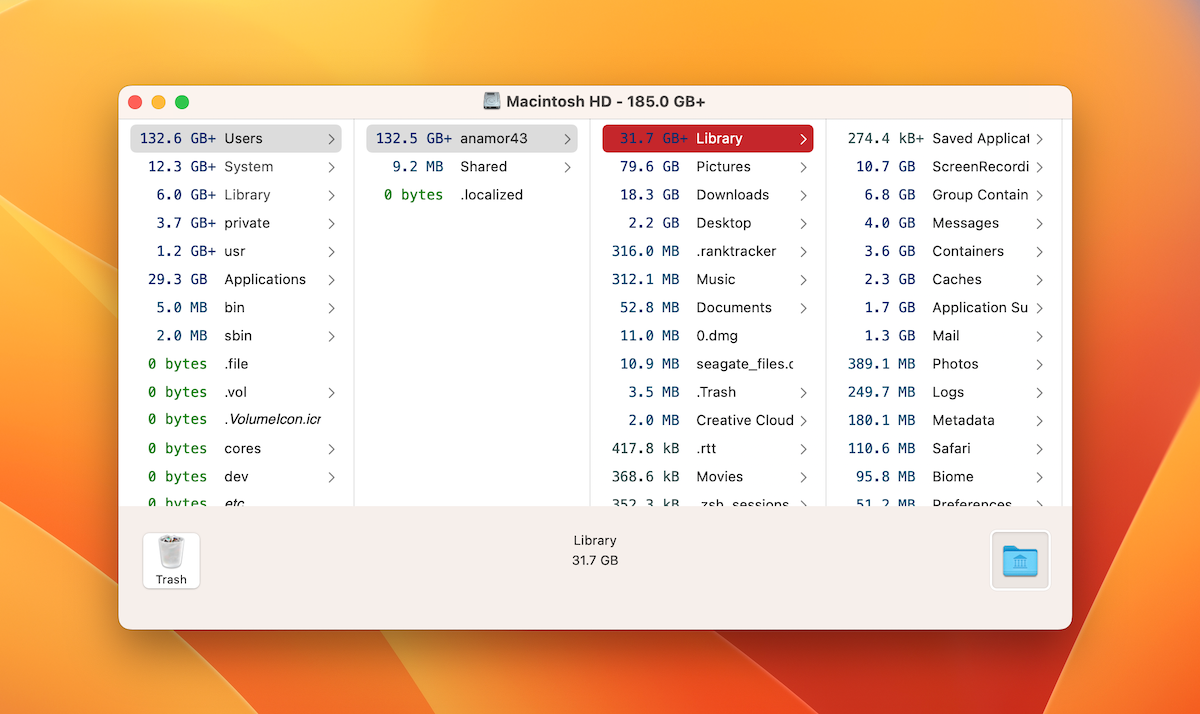 ✅ Pros:
Entirely no-cost utility
Easy to navigate
Presents the files in a list sorted by size
📛 Cons:
Doesn't graphically show the files on your disk
Lacks extra features
💲 Pricing Options: Free
Disk Analyzer Pro is a simple disk management tool that can help you declutter your Mac from old and unnecessary files. After a quick scan of this app, you'll find out how much disk space is used by specific file types and see which folders and files take up the most space on your computer.
Moreover, you can perform any action you want with a certain file directly through the application: whether you wish to copy it, move to a different location, or just delete it.
✅ Pros:
Has a free trial version
Quick scanning of disk
Clean and simple user interface
📛 Cons:
💲 Pricing Options: The full version of the tool with a lifetime license costs $9.99.
Disk Inventory X is another Mac free disk space analyzer. Just like GrandPerspective, this tool also uses treemaps to organize the files located on your Mac's disk. But aside from that, it also allows the user to view their files and folders in a list (from the largest one to the smallest one or vice versa).
Moreover, the tool gives you the option to analyze either the whole drive or a specific folder. But overall, its features are limited to that.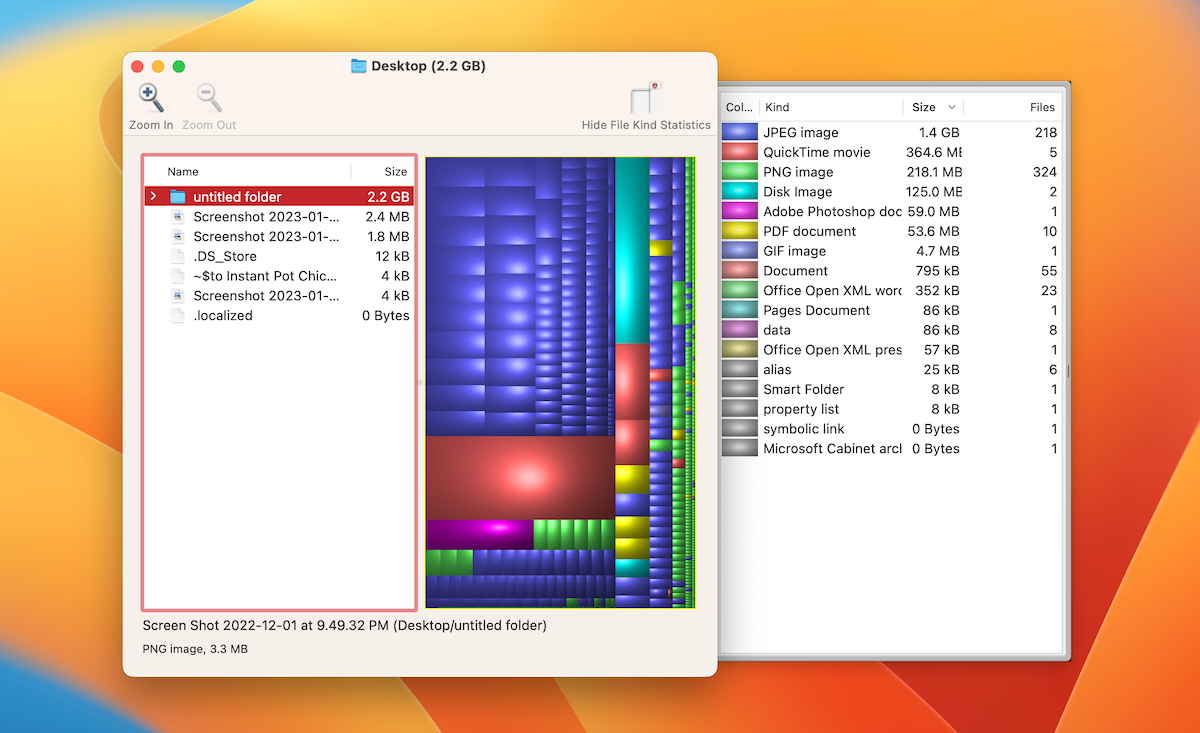 ✅ Pros:
Free to download and use
Presents the files both in a graphical and textual way
Can be used to analyze separate folders
📛 Cons:
Limited features
Doesn't support newer macOS versions
💲 Pricing Options: Free
Disk Space Analyzer is another well-designed disk utility application for Macs. With the help of this tool, you can analyze the disk space on your computer and view both graphically and textually how that space is being used. Also, the tool can quickly spot unused and massive files that waste free space on your Mac.
All of the actions that can be performed with the files (such as deletion, transferring, etc.) can be done directly through this utility app.
✅ Pros:
Clean design
Quick scanning
Compatible with external storages
📛 Cons:
💲 Pricing Options: A free limited trial version is available. The subscription plan cost starts at $4.95 per month for 1 Mac.
DaisyDisk is a disk utility app that can help you better understand which files are occupying the most space on your Mac and instantly get rid of the unneeded ones. The tool turns the data stored on your computer into an interactive map that makes it easy to find, preview, and delete large files. And the stunning design and simple navigation system make this tool suitable for all Mac users.
Moreover, the developers constantly release new updates, which is why the tool is compatible with the latest macOS versions (such as macOS Monterey, macOS Ventura, etc.), as well as with M1 Macs.
✅ Pros:
Stunning graphical display
Quick scan
You can preview the files before deletion directly through the app
Compatible with the latest macOS versions
📛 Cons:
Doesn't detect duplicate files
Slightly pricey
💲 Pricing Options: A free limited trial version is available. The full version of the tool with a lifetime license costs $9.99.
CleanMyMac X is a well-known Mac cleaner tool that happens to have an excellent disk space analyzer feature built inside. By using the Space Lens feature, you'll be able to view an interactive map of the files located on your drive and see which ones take up the most space on your Mac. Once you find an unneeded file, you can get rid of it with just one click.
Overall, the tool does its job pretty well. But it's totally up to you to decide whether it's worth the price since it's on the pricey side.
✅ Pros:
Packed with extra features
Comes equipped with other cleaning tools
Protects system files
Easily locates large and unneeded files
📛 Cons:
More expensive than similar tools
💲 Pricing Options: A free limited trial version is available. The prices for the paid version of this tool start at $34.95 per year.
How to Analyze Disk Space Using macOS Finder
Getting a third-party disk space analyzer tool for storage space optimization and management is not the only option that Mac users have. Each Mac comes equipped with a free built-in Mac disk space analyzer tool that can help you handle some of the most common and basic disk space management needs. If you've been a proud owner of a Mac for quite some time now, then you must already be familiar with this tool — it's Finder.
The Finder app is located on every Mac in the Dock. To open it, simply click its icon (it is the first tool from the left side). Once you've opened the application, follow these steps to check the storage space on your Mac:
Make sure that all disks and drives are visible in Finder on your Mac (to do this, go to Finder > Settings > Sidebar tab and place a tick near the disk options).
Go back to the main Finder window.
Right-click the disk that you wish to analyze from the sidebar on the left.
Click Get Info and look at the information in the General section.
Disk Space Analyzers Review Summary
Here's a short summary of the tests conducted for this Mac disk space analyzer tools review.
| | |
| --- | --- |
| Number of tested tools | 8 |
| macOS version | macOS Ventura 13.1 |
| Average cost | $2.99 |
| Minimum cost | Free |
Conclusion
Any of the disk space analyzers from this review can be trusted. But it's up to you to choose the one suitable for your needs since even though they are all quite similar, at the same time they have some differences in the price, features, etc.
If you don't want to make a choice off the top of your head, we recommend the CleverFiles Cleaner since this utility app has proven to be effective and is simply a great offer for such a cost.