Apple has come a long way in providing users with handy features to clean duplicate photos from iPhone devices. However, these built-in functions still fall short, especially when handling a large number of images. Thankfully, iOS developers stepped in with iPhone duplicate photo cleaner apps to solve this common issue.
In this article, we have meticulously curated and tested 9 of the best iPhone duplicate photo cleaner apps available on the App Store. We've evaluated each app's features to help you figure out which ones work best for your preferences and needs.
What Can Photo Cleaner Apps Do?
Third-party photo cleaner apps extend far beyond the built-in capabilities even on iPhone 12, 13, 14, 15, and their pro devices running the latest iOS 17 release. These apps offer advanced features, some of which are missing from the iPhone, and some are simply better implemented.
Some free duplicate photo cleaner iPhone apps also help manage bulk deletion of other file formats like contacts, emails, message attachments, and more.
Here are some more upsides to using photo cleaner apps compared to simply relying on the iPhone's native features:
🔎 Better at detecting and removing similar and duplicate photos – Phone cleaner apps are designed with better recognition algorithms that catch duplicates that the native Photos app misses.
🗂️ Photo organization – The iPhone lacks more comprehensive sorting and filtering options. Meanwhile, photo cleaner apps let you organize your photos by categorizing them based on date, location, size, or other metadata. This is extremely helpful when trying to clean up your storage or find specific files.
🗜️ Photo compression – Compressing high-resolution photos into space-saving files is one of the extra features you wouldn't find in native iPhone apps. Some third-party photo manager apps also offer compression tools for videos to reduce their file sizes without compromising the quality.
🤖 AI-powered features – Artificial intelligence can help organize your gallery by automatically identifying duplicates, screenshots, and blurry photos, among others. Some can use AI features to improve photo quality.
☝️ Optimization recommendations – Optimization recommendations identify which files have the largest file size and what photos and videos to delete, compress, and merge. This can make storage cleanup more efficient.
9 Best Apps to Delete Duplicate Photos on iPhone
Now that you know how useful iPhone duplicate photo cleaner apps can be, you should have a better understanding of the features you want to try out.
In the following sections, we will walk you through our list of best apps for duplicate photo deletion, working with the latest iOS 14, 15, 16, 17, and the devices using them.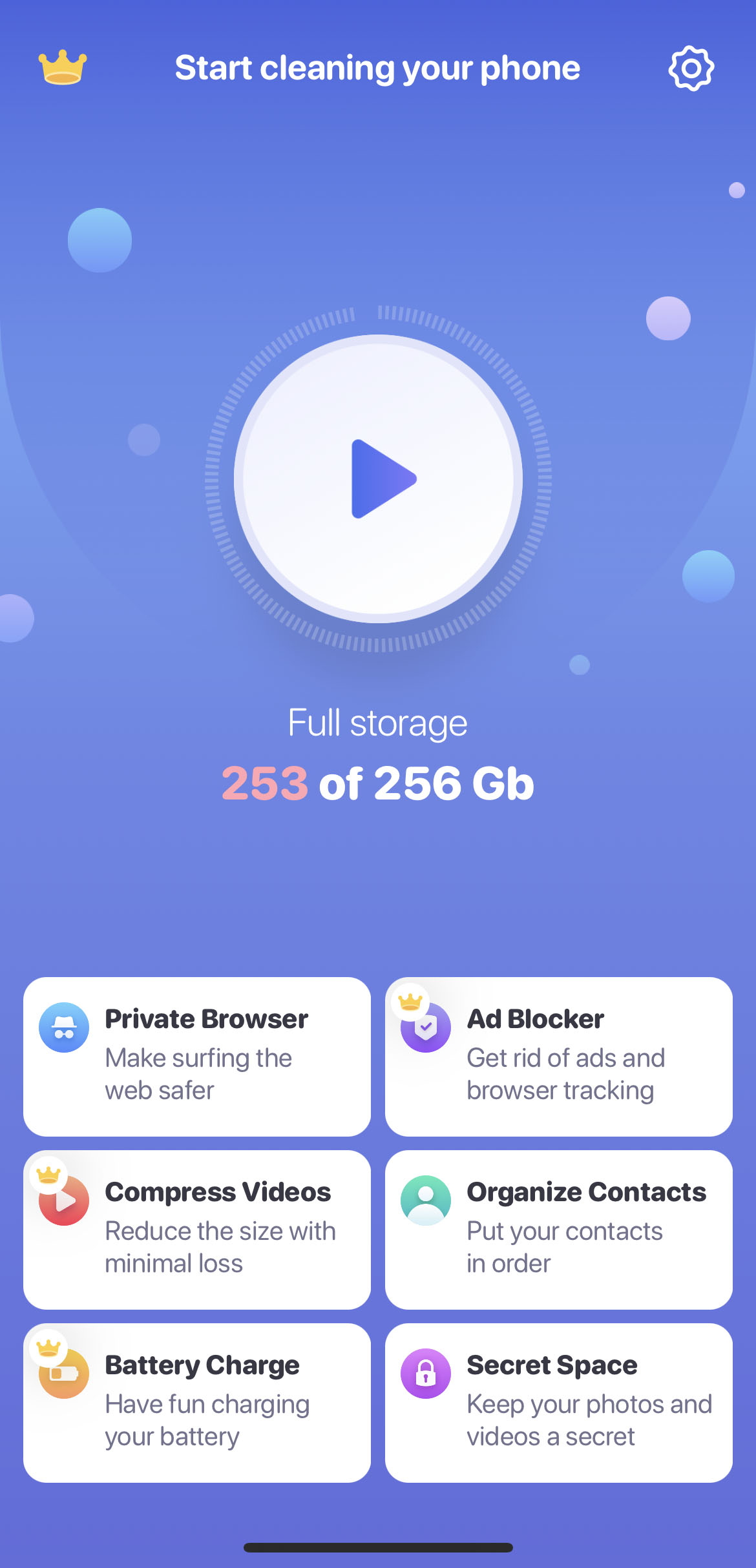 Hyper Cleaner is a trustworthy photo cleaner app. It's a simple, easy-to-use, one-tap solution for duplicate photos. It's versatile enough to compete with the best iPhone storage cleaner apps available online.
Its smart cleaning feature can scan your whole gallery to organize your media files, identify duplicate and similar photos, and suggest photo and video deletions. With just a few taps and a few seconds, it can analyze even hundreds of GBs worth of photos and videos, successfully identifying most of the duplicate/similar images in your gallery.
Hyper Cleaner can choose the best shots among similar photos in your gallery. You also have the power to choose which files get deleted among the automatically detected files.
We consider it the best photo cleaner app for iPhone because of its reliability and range of features, along with good reviews from the App Store.
⭐ Notable features:
Find similar photos, screenshots, live photos, videos, and blurry photos and delete them
Ad blocker
Private browsing
Organize contacts (merge/delete duplicates)
Photo and video compression
Hiding photos and videos in a vault
💰 Price: Hyper Cleaner subscriptions start at $4.99 per week and go up to $24.99 per year. All subscriptions come with a 3-day free trial for all the premium features.
Cleaner for iPhone is another comprehensive and straightforward photo and file manager for the iPhone. It scans duplicate and similar photos, screenshots, blurred, and burst photos. It can also suggest deletions and can clean even your iCloud storage.
While it doesn't have the comprehensive feature list that Hyper Cleaner has, it can effectively identify duplicate photos and successfully guide you through selecting the best shot. Plus, the app includes contact and calendar optimization, including restoring backup contacts.
⭐ Notable features:
Video cleaner
Calendar cleaner
Contacts cleaner for merging contacts
Photo/Video compression
Hide photos and videos
💰 Price: You can subscribe to Cleanup Monthly, priced at $2.99. Lifetime access, on the other hand, is priced at $19.99.
Clean My Photos: Photo Cleaner is one of our picks for its remove duplicate photos app features powered by AI-level technology. It detects duplicate photos, similar videos, screenshots, live photos, and others, even allowing you to set the time range it would scan beforehand.
This app makes it efficient to organize your photos and suggest the best photo to retain. Based on our tests using a gallery with 14,000+ media files, the artificial intelligence integration helped it determine the high-quality shots among similar photos.
⭐ Notable features:
Clean photos, contacts, and events
Hide photos in a private vault
Merge duplicate contacts
💰 Price: Clean My Photos: Photo Cleaner is free with in-app subscriptions. Avail a 3-day free trial period and renew with a $4.99/week subscription to access all the app's features. You can also opt to purchase lifetime access for $39.99.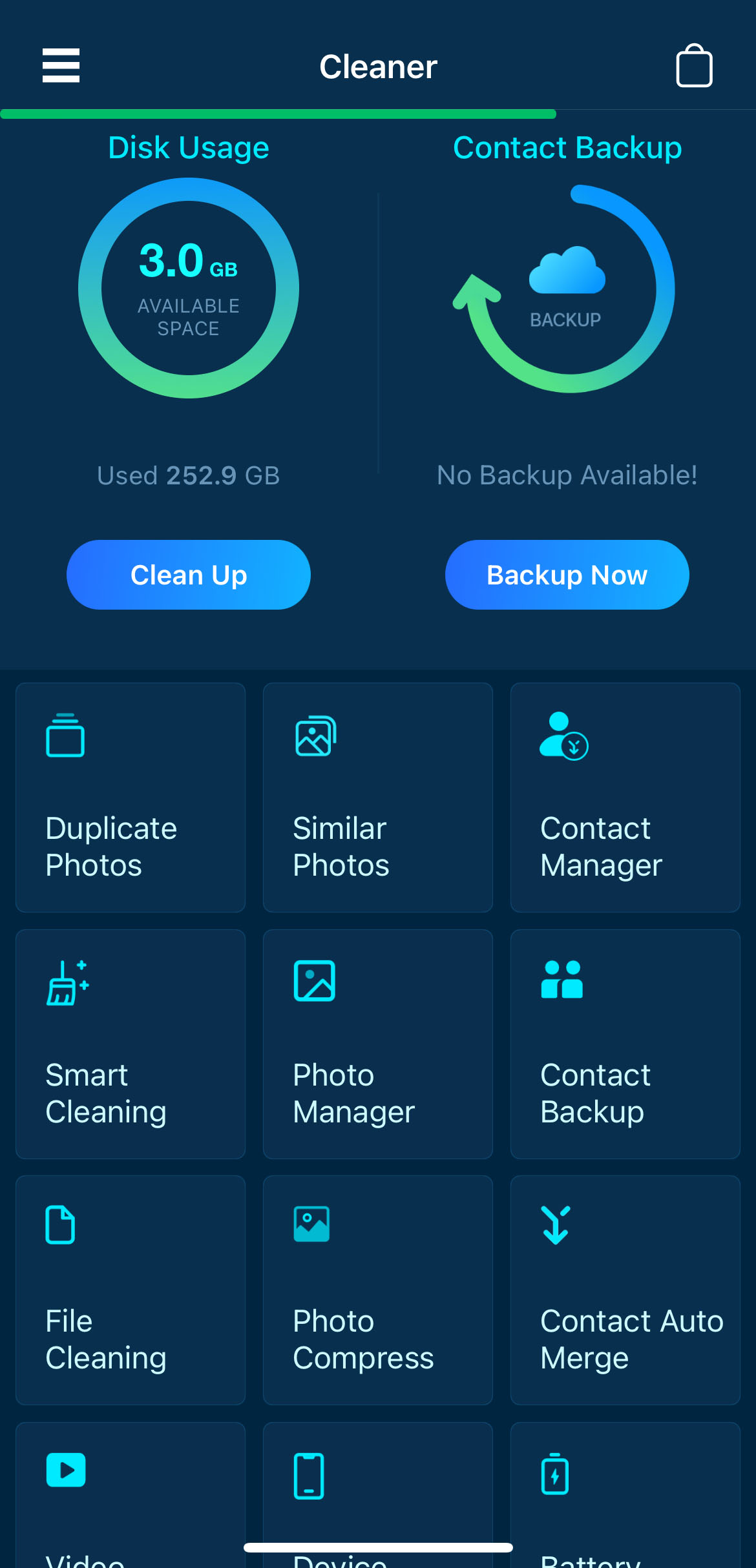 Cleaner is an all-in-one app designed to optimize your iPhone by not only managing your duplicate photos, videos, and contacts but also scanning your device to remove unwanted files. You can also set it to automatically remove identical photos, auto-clean your photos, auto-merge contacts, and compress large photos and videos.
With Cleaner, you can detect identical photos in no time and bulk delete them. It can also help you free up space with its smart cleaning feature. Its photo manager finds similar photos, screenshots, live photos, and burst photos, and categorizes your photos by location.
Cleaner is the best iPhone photo clean-up app if you're looking for an everything app to manage your files and keep your overall device health in check. Its non-premium version works well at locating and managing duplicate photos, but the pro version contains the rest of its powerful features.
⭐ Notable features:
Photo/video compression
Battery monitoring
Remove unwanted files
Contact backup
Device Monitoring feature
💰 Price: Cleaner has a free 3-day trial for its premium features. The pro version costs $3.99 per week, $9.99 per month, and $34.99 per year.
Remo is a free iPhone photo duplicate remover. It's very basic and easy to use, having only a few buttons you can play with. It can scan for duplicate photos in your gallery and find similar pictures. You can also preview the photos before deletion or set the app to automatically keep one best copy of duplicates.
Remo is the best duplicate photo remover app for iPhone for you if all you're looking for is a free and simple duplicate photo cleaner on your phone. You can also get it on MacOS if you're looking for alternatives for duplicate file finders on Mac.
One thing to note is that it took longer than the other apps to scan our test device. Still, it accurately detected and categorized our photos, leaving us with an overall satisfactory performance.
⭐ Notable features:
Reliable duplicate scanning capabilities
Automatically keeps one best copy safe in each group
Preview images to have a clear look at them before deletion
Get image details like date, resolution, size, etc.
💰 Price: Remo is completely free for iOS. For Windows or Mac, you can purchase the app for $19.97.
Duplicate Cleaner App is another simple and intuitive app that boasts accurate duplicate scanning algorithms combined with fast scans. With the Duplicate Cleaner App, you can easily find and bulk delete duplicate photos. It has auto-deletion features for duplicate photos and contacts as well.
This handy and free tool makes it easy to clean up your iPhone with duplicate photo management features. It's the best iPhone photo clean up app for you if you're trying to find a fast app with no extra features or cost.
⭐ Notable features:
One-tap photo duplicate scan
Bulk delete contacts
Merge duplicate contacts
Backup and restore contacts
💰 Price: There are no subscription options for this app.
Slidebox acts mainly as a photo manager that organizes photos quickly. It has an interface designed for fast categorization, using swipe gestures to quickly navigate and delete multiple photos.
The album options are also available on the bottom menu. With one tap, you can choose what album you want to place your photo in. You can also group albums into tabs.
Slidebox might not be the best duplicate photo remover app for iPhone, but it can compare similar photos by swiping back and forth in the album.
⭐ Notable features:
Efficient photo organization features
User-friendly design
Compare similar photos
Synced with iPhone and iCloud
💰 Price: Slidebox costs $4.99 for a monthly subscription and $49.99 for an annual subscription.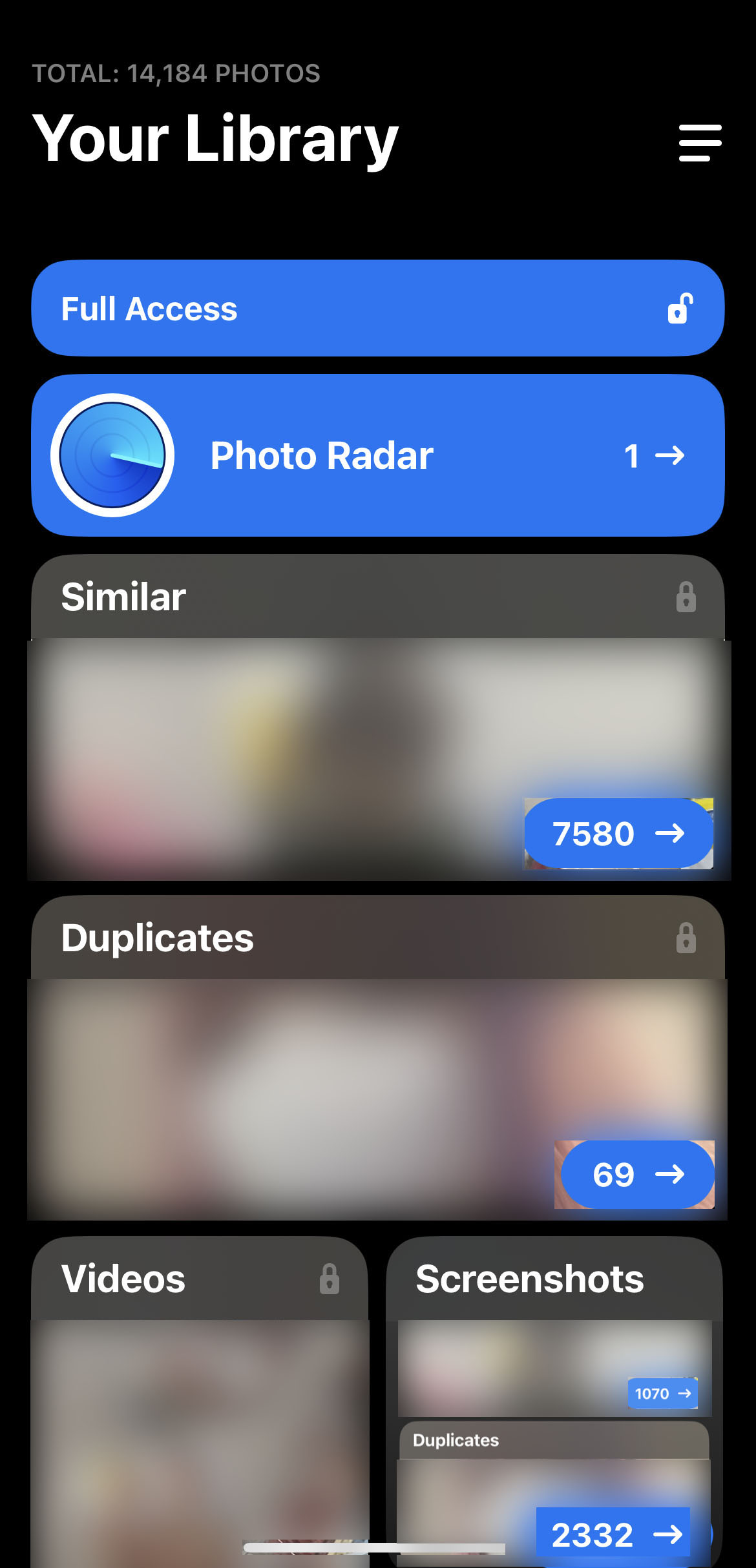 Gemini Photos combines a photo organizer app with a photo cleaner app. Easily review similar photos and keep only the best ones with its modern-looking and intuitive interface. Sort out your photos with simple swipes. You can also enhance the best shots of duplicate photos using built-in photo and color correction features.
With Gemini Photos, you can fast-delete similar shots, delete multiple duplicate photos, and even combine screenshots into one image. We were also able to quickly scan and clean screenshots, blurred pictures, and others.
It's the best photo clean up app for iPhone for people wanting Slidebox-like photo organization features combined with duplicate photo cleaning features.
⭐ Notable features:
Combine screenshots into one image
Review and sort videos
It suggests the good shots among duplicates
Automatically touch up photos
Monitors new photos and videos to prevent pile up using the Photo Radar feature
💰 Price: Gemini Photos' basic features are free. For a $4.99 monthly subscription, you can enjoy the rest of the app's features. You can also purchase an annual subscription at $19.99 and a lifetime subscription at $34.99.
Immediately after launching Cleanup, all the categorized photos are laid out in front of you. It's another versatile app for iPhone optimization, managing duplicate and similar photos, and organizing contacts.
It also has an easy organization feature where you can swipe right per photo to keep it or swipe left to delete it.
Aside from duplicate photos, it can also clean your email from spam. Plus, you can easily access the app's features when you add it to your home screen as a widget. This is the best iPhone photo clean up app for people who want a holistic approach to digital organization.
⭐ Notable features:
Scan for duplicates and similar photos
Identify similar videos and screenshots
Email cleaner
Hide files through Secret Space
Photo/Video compression
Add the app as a widget on the Home Screen
💰 Price: A weekly subscription to Cleanup costs $3.99. Meanwhile, an annual subscription is priced at $29.99. Both subscriptions come with a free 3-day trial to try out the app's features.
Conclusion
If you're one to take photos and videos every day, accumulating duplicate photos in your gallery is only a matter of "when." But with the 9 best iPhone duplicate photo cleaner apps we listed above, we hope you found an app that can help you optimize and free up your phone storage.
Our app picks are all user-friendly, carry useful extra features, and have free versions. But remember that choosing the best iPhone photo clean up app will always come down to your specific needs and preferences. Whichever one you choose, make it a habit to maintain your photo gallery to prevent any storage buildup in the future.