In this article, we are going to talk about the best iPhone data recovery software available in 2022. If you are like the majority of iPhone owners, you use the device for a lot more than making calls. You probably store a lot of important photos, videos, and files on your iPhone.
When faced with a data loss scenario involving your iPhone, you may need iPhone data recovery software to resolve the issue. If this is the case, read on and learn about some iPhone recovery software that can help get your data back safely.
What is iPhone Recovery Software?
Simply put, iPhone recovery software is an application that helps users recover lost and deleted data from their iPhones. We are going to be looking primarily at software tools that run on macOS, enabling you to recover lost data from your iPhone using your Mac or MacBook.
Pro Tip: Before using data recovery software to get your lost or deleted files back, you should take advantage of the native features of your iPhone. Multiple apps, such as Photos, retain recently deleted files temporarily, say for 30 days. During that time, you can easily recover them from within the app. Always check the app that created the lost files before taking additional recovery steps.
Pro Tip #2: Take advantage of iCloud or another backup methodology to protect your information and provide you with an alternate recovery method. While creating backups will not be able to address every data loss scenario, they offer a way to safeguard your valuable information that should not be ignored. Hooking up your iPhone for iCloud backups is easy to do. Check out this Apple help page to find out how.
How Does iPhone Recovery Software Work?
iPhone recovery software takes advantage of the way the iOS operating system running on the device handles file deletions. When a file is deleted, it is not immediately physically removed from the iPhone. Only the logical links making the data available to the operating system and apps are removed. Until the file gets overwritten, it can be retrieved by data recovery software.
Even when you permanently delete a photo from the recently deleted folder, it's still there until it gets overwritten by new data. The key is to use the software before new data overwrites the deleted files.
iPhone data recovery software scans your iPhone's storage and repairs the logical links necessary to recover the files. After you copy the recoverable files to a safe location, not on the iPhone, you can use them again as you wish.

Important! Stop using the iPhone as soon as data loss is suspected. In particular, don't do anything that will save new information to the device. You can look at recently deleted folders to determine if your lost files can be recovered from them, but that's about it. Don't use the iPhone until you have used recovery software to recover your data.
Our iOS Recovery Software Selection Criteria
A quick search online will return many more than ten iOS data recovery software products. The solutions we selected for inclusion in this article have been chosen based on their ability to meet the following criteria.
⚙️ Operating system support – You need to make sure the software tool you choose is compatible with the operating system that will be used to perform the recovery. Many vendors have versions for multiple systems. Verify that the one you want works on your system before completing the purchase.
🤗 Usability – Recovering from a data loss situation can be extremely stressful. You want a tool with a user-friendly interface that makes it easy to locate and recover the deleted files. We avoided applications that require you to enter cryptic commands to get the job done.
💡 Recovery features – Many recovery tools can recover data from multiple types of storage devices in addition to iPhones. This kind of tool will prove to be more valuable over the long run to address subsequent data loss situations.
📄 Recovery performance – A recovery tool is only as good as its ability to recover the kind of data that was lost. Reliable tools can recover all major filetypes that might reside on your iPhone, including photo, video, audio, and document types.
🧰 Additional tools – Some of the solutions discussed contain additional tools that are useful for managing storage, cleaning unnecessary files, or creating backups. The inclusion of viable additional tools to a reliable recovery application makes it more valuable to its users.
💲 Price – Price should only be a minor consideration compared to the other software characteristics we have noted. An inexpensive tool with inferior recovery capabilities can prove extremely costly in permanently lost data. Some tools require you to maintain a yearly license which ends up being a lot more expensive than making a one-time purchase.
We took all of these factors into account when compiling our list of iPhone recovery software applications.
Top 8 Best iPhone Data Recovery Software Solutions
Now that we have explained what iPhone recovery is and how we chose these solutions, let's take a look at eight of the best products out there that will help get your lost files back.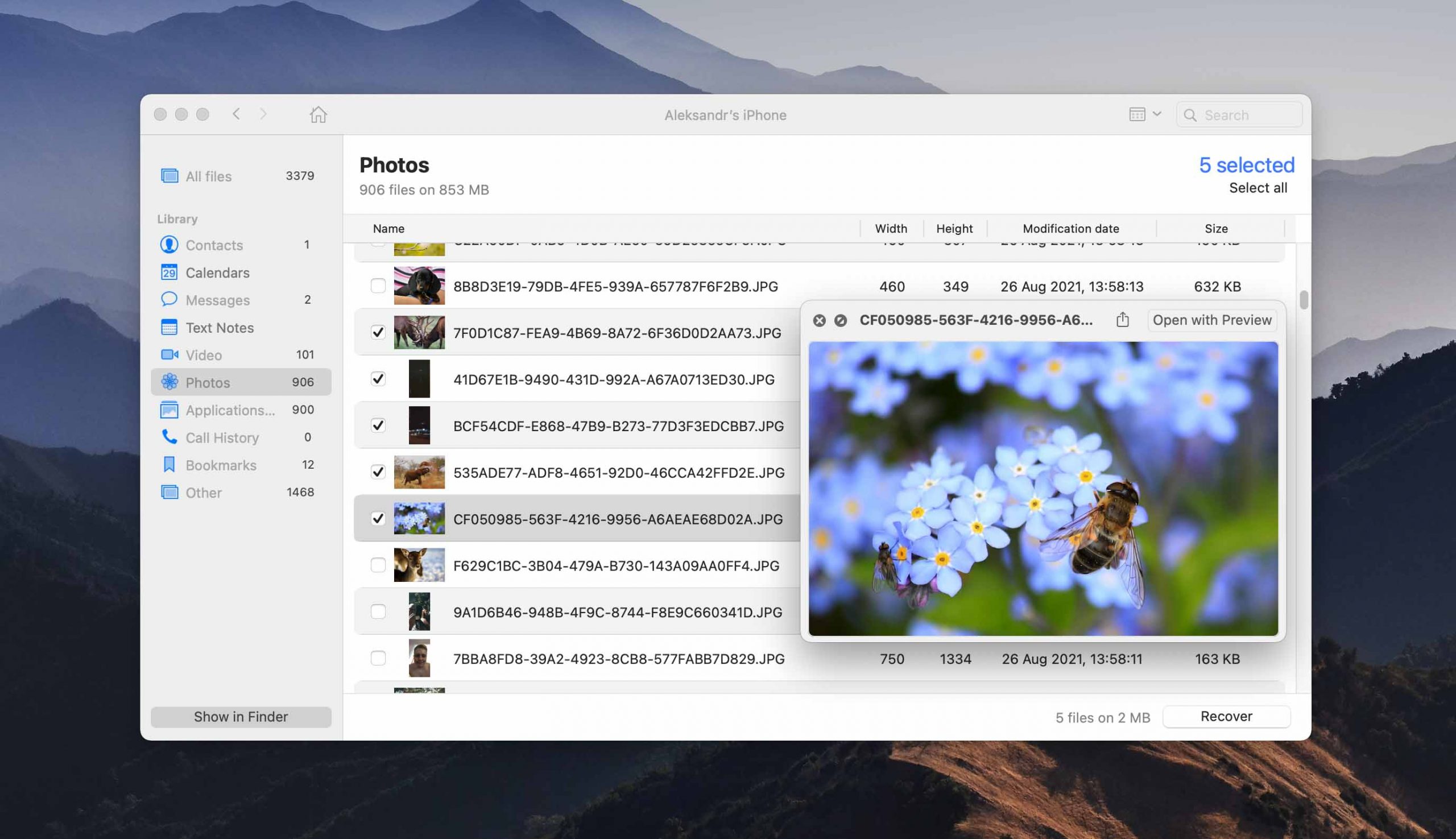 Disk Drill offers users a comprehensive iPhone data recovery tool that can get their lost data back quickly and easily. The tool also supports the recovery of lost and deleted files in hundreds of formats from virtually any type of disk-based storage device. A simple, clickable interface makes it easy for anyone to successfully recover data from their iPhone as well as access the tool's extensive additional features.
Disk Drill takes the stress out of iPhone data recovery and helps you keep the data on your device safe. You can create byte-level backups that can be used for recovering deleted data, and tools for your Mac let you designate important files and folders for extra protection. The tool is updated regularly to stay in step with emerging technology.
👍 Likes:
Nice user interface
Simple recovery procedure
Excellent recovery results
Supports many devices and file types
Free data protection and management tools
👎 Dislikes:
Free trial for macOS can only preview recoverable files
⚙️ OS Support: iOS 5 – 14. All versions of OS X and macOS. Windows versions are available.
💲 Price: One-time purchase of the Pro Version is $89.
Dr.Fone is a data recovery solution that focuses on retrieving lost data from your iPhone. The tool supports all versions of iOS and is compatible with all Macs running OS X 10. It can get back your lost photos, videos, contacts, messages, and more with a simple three-step recovery process.
The tool's developers have multiple products available that perform all kinds of tasks related to protecting, managing, and recovering iPhone data. Users can select the product that best fits their needs and not pay for features they won't use. It provides an easy recovery vehicle for saving deleted iPhone items.
👍 Likes:
7-day money-back guarantee
Supports all iOS and Mac operating system versions
👎 Dislikes:
The website can be confusing regarding product selection and pricing
Only supports recovery from iPhones
⚙️ OS Support: All iOS versions, Mac OS X 10.8 through the newest version. Available for Windows machines.
💲 Price: $69.95 for a yearly subscription. Lifetime subscriptions cost $79.95.
This recovery tool lets you recover deleted data directly from iOS devices as well as from iCloud and iTunes backups. It supports the recovery of over 35 different file types including photos, SMS messages, and contacts. UltData restores items lost from a wide variety of data loss scenarios including an accidental factory reset.
Users can selectively recover files directly to their device or to a safe location on their computer. The tool offers a reliable recovery solution for all iPhones, iPads, and iPods.
👍 Likes:
30-day money-back guarantee
Free technical support
👎 Dislikes:
No extra data protection tools
⚙️ OS Support: All iOS and Mac operating systems are supported. Available for Windows.
💲 Price: Yearly subscription is $59.95, Lifetime subscriptions are $69.95.
FoneLab for iOS offers users a recovery tool that supports many file types and allows recovered data to be saved in a variety of formats. It helps users recover from virtually any data loss scenario affecting their iPhones or iOS devices.
FoneLab enables iOS system recovery to help address errors. Detailed previews of recoverable iOS data are available before committing to recovery.
👍 Likes:
Preview data before recovery
Supports all iOS compatible devices
👎 Dislikes:
⚙️ OS Support: All versions of iOS, Mac OS X 10.7, and later. Windows versions are available.
💲 Price: $69.95.
EaseUS produces data recovery software and MobiSaver is the company's dedicated iOS recovery tool. The application can recover everything from WhatsApp chats to accidentally deleted photos and videos. It offers a fast and easy recovery tool that is suitable for use by anyone with an iPhone.
MobiSaver enables users to quickly scan their iOS device to locate recoverable files from internal storage, iCloud, and iTunes backups. If you have lost data on your iPhone, this tool should be able to get it back safely.
👍 Likes:
The free version allows recovery of one photo
30-day money-back guarantee
👎 Dislikes:
No additional data protection or management tools
⚙️ OS Support: All versions of iOS and Mac operating systems. Windows versions are available.
💲 Price: $79.95.
Stellar iPhone Recovery retrieves all types of data lost or deleted from your device. It comes with some advanced features like a deep scan facility and data erasure function. The tool works with all types of iOS devices with an easy three-step recovery procedure. This application will help you get back those valuable lost photos with a minimum of stress.
👍 Likes:
Deep scan function to recover tough to find files
Can erase unwanted iPhone data permanently
👎 Dislikes:
Only sold on a subscription basis
⚙️ OS Support: iOS 14 and earlier, all versions of the Mac operating system. Available for Windows.
💲 Price: $39.99 for a yearly subscription.
Leawo is a serviceable iPhone recovery tool if you are using older versions of the device and are running OS X 10.10 or earlier. Its website does not indicate any planned support for later versions, but if your systems are supported, this tool might be just what you need.
Leawo specializes in recovering specific types of lost files from iPhones and iPods. It can retrieve files from the Contacts, Messages, Call history, Calendar, Notes, and Reminders apps. Its "Smart Filter" function helps you find recoverable files fast and the user-friendly UI makes it easy to use.
👍 Likes:
Recovers 12 kinds of files from iTunes backups
Fast performance
User-friendly interface
👎 Dislikes:
No support for recent versions of the macOS
No support for newer iOS versions
Limited file types supported for recovery
⚙️ OS Support: Support for iPhones through iPhone 6, Mac OS X 10.6 – 10.10. Windows versions are available.
💲 Price: $59.95 for a 12-month subscription, $69.95 for a lifetime license.
The iPhone Backup Extractor is a dedicated iPhone recovery tool that concentrates on doing one job well. It can retrieve files from your iPhone's onboard storage as well as iTunes and iCloud backups. The tool supports the recovery of videos, photos, contacts, calendar entries, WhatsApp messages, and more.
This tool cannot perform recovery from other types of storage devices, making it more limited than some other choices. If you just need a solution for lost or deleted iPhone data, this product should do the job. No technical knowledge is required to recover your important lost iPhone files.
👍 Likes:
30-day money-back guarantee
The software can be used with up to 5 iCloud accounts
Recovers data from many supported iPhone apps
👎 Dislikes:
Yearly subscription required
Only supports iPhone data recovery
⚙️ OS Support: All versions of iOS, OS X, and macOS. Windows version is available.
💲 Price: $59.95 for a 12-month subscription.
Honorable Mentions
PhotoRec is an example of a tool that may be able to resolve your iPhone data loss problem but has several issues that kept it off our list of best solutions. While it is a freeware solution, it has not been updated in several years which is always concerning. It is also a command-line tool that requires more knowledge of system configuration to successfully perform a recovery. Unless you are comfortable with a command-line interface and have some data recovery experience, you should probably find a different recovery tool.
FAQs
You can use iPhone data recovery software to retrieve permanently deleted video from your iPhone. Here are the general steps you will use when performing an iPhone data recovery using software.
Download and install the recovery software on your Mac.
Connect the iPhone to the computer.
Scan the iPhone using the recovery software.
Identify and preview recoverable items.
Recover the found files to a safe location.
Files can mysteriously disappear from your iPhone for several reasons. The most common is a human error where you or someone else with access to the device accidentally deletes something. You can also suffer data loss from a bad OS or app update or infection with malware.
The length of time deleted files can remain on an iPhone is entirely dependent on how much use the device gets after the deletion. If the iPhone is not used at all, a deleted photo can be recovered years after it was lost. Heavily used iPhones will overwrite a deleted file in a shorter timeframe, making it impossible to retrieve with a software solution.
Conclusion
One of the solutions we have discussed should be able to recover deleted data from your iPhone. You can get a comprehensive recovery tool like Disk Drill that offers a wealth of extra features in addition to great iPhone recovery capabilities. We suggest you try the free version of a few tools to see if you like the interface before being faced with that inevitable data loss moment. A little familiarity with the tools will lessen the stress and result in a more successful data recovery.